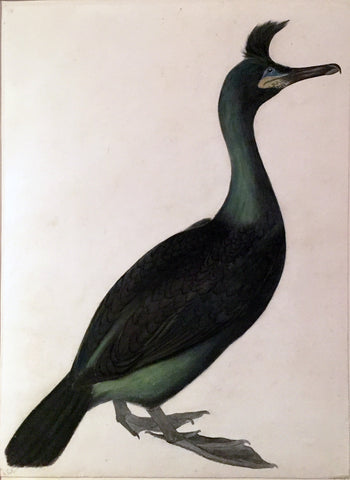 ROBERT MITFORD (BRITISH, 1781-1870), "Crested Shag or Green Cormorant"
ROBERT MITFORD (BRITISH, 1781-1870)
"Crested Shag or Green Cormorant"
Original watercolor prepared for Plate 86 of Illustrations of British Ornithology
Watercolor, gouache, pen and ink on paper
Signed 'R. Mitford' l.l., '86' upper left
Paper size: 21 7/16 x 15 1/4 in.
London, ca. 1820
Provenance: Library of H Bradley Martin.

Selby's text for the Crested Shag of Green Cormorant is as follows: "After an examination of a great number of specimens, and diligent inquiries upon various parts of the coasts of England and Scotland, I have not been able either to meet with or hear of a single bird that can satisfactorily be referred to TEMMINCK'S Carbo Graculus. This he considers identical with the Pelecanus Graculus of LINNUS and LATHAM, although his description does not coincide with that of the latter, nor with the Shag of our British ornithologists, which has always been supposed to represent the Graculus of the different systems, but which, from the descriptions given of it in its various states of age and plumage, undoubtedly belongs to TEMMINCK'S other species, the Carbo cristatus, or 'Cormoran Largup.' This is evident from the stated dimensions of the bill, as well as colour of the adults during the summer plumage; for all our writers agree in describing the head and neck of the British Shag as being of a deep glossy black-green, without any intermixture of white feathers, or any patch of the same colour upon the thighs. Now, both of these are given by TEMMINCK as distinctive characters of his Carbo Graculus, which bird appears to resemble the Common Cormorant in every respect, but that of inferior size, shorter bill, and twelve instead of fourteen tail-feathers, in which latter point it agrees with the Crested species.

Presuming upon TEMMINCK'S usual correctness, and that his Graculus is an actually existing species, I have adopted his specific name of Cristatus for the bird now under consideration, and well known as the Shag and Crested Shag of our native authors. Dr FLEMING, it ought to be observed, retains both the Graculus and Cristatus in his History of British Animals, and even adds the epithet of 'Common' to the former; but upon what authority he does so, I am at a loss to conjecture. I cannot but think he has been led into some mistake with regard to the species, especially as he has quoted the Corvus aquaticus minor of WILLOUGHBY and RAY as a synonym, the description of which clearly refers to the Crested or Green Cormorant. I may also add, that the Pelecanus cristatus of LATHAM'S Index Ornithologicus, quoted by TEMMINCK as a synonym of his 'Cormoran Largup,' seems to refer to some other species, probably the Carbo Dilophus of RICHARDSON and SWAINSON, mentioned in the Fauna Americana Borealis, as the crest is thus described; 'Pennae ad latera capitis utrinque elongatoe, cristam efformantes,' a form and position totally unlike that of the Crested Shag. In the descriptions of this species given by our writers, much difference will be found in the details, but these may all be traced to the age, or particular state of plumage of the individual when described. In its perfect or crested state, that is, with the frontal tuft curving forwards, it seems to have come but rarely under observation, which will not appear extraordinary, when we consider the short time that the bird possesses it, viz. from about the month of February till nearly the middle of May. Upon the rocky shores and islands of England and Scotland, the Crested Shag is a common species, breeding in the clefts and on the ledges of perpendicular cliffs. Its nest is composed of a mass of sea-weed, chiefly of the Fucus vesiculosus, and the eggs, four or five in number, are smaller, but similar in outward appearance to those of the preceding species. The young are also excluded in a naked state, but soon become covered with a thick black down, that is gradually hidden by the regular plumage. As nestlings, they have the same habit, when alarmed, of gaping with outstretched necks, and violently shaking the loose dilatable skin of the throat.
This bird differs from the larger species in never frequenting fresh water lakes or rivers; residing constantly upon the sea-coast. It preys upon various kinds of fish, which are obtained by diving, in which faculty it is equally quick and expert with the Common Cormorant.

PLATE 86. Represents a Male of this species (killed near the Fern Islands) in the nuptial plumage, or with the frontal crest fully developed. Natural size.

Head, neck, lower part of the back, and under plumage, General fine silky blackish-green. Upon the forehead is a tuft blackish-green elongated feathers, upwards of two inches long, and curving forwards. Mantle, scapulars, and wing-coverts deep-black, bronzed green, each feather being surrounded by a band of velvet-black. Tail consisting of twelve feathers, scarcely six inches long, black, with the shafts strong and elastic; the webs coarse, and generally much worn at their tips. Legs and toes black. Guttural skin and corners of the mouth gamboge-yellow, the former having black specks. Bill black; two inches and three-eighths in length from the forehead to the tip.

In autumn, and the early part of winter, it is destitute of the frontal elongated feathers, but in other respects the plumage is the same as in summer. Both sexes are nearly alike. The young of the year have the head and Young. neck of a greyish-black, tinged with green, and the under parts are more or less mixed with greyish-white.

The upper plumage inclines to greenish-brown, and the zone that margins each feather is broader than in the adults."


Prideaux John Selby (British, 1788-1867)
Considered by many as the English equivalent of Audubon, Prideaux John Selby created some of the most memorable bird images of the nineteenth-century. His contributions to British ornithology were rivaled only by those of John Gould. Yet, his pictures were larger and less purely scientific, exhibiting Selby's distinctive and charming style. A sense of Selby's enthusiasm for his subjects is nowhere more palpable than in his engaging original watercolors. Selby executed these delightful images as preparatory models for his landmark printed series, Illustrations of British Ornithology. While the artist's engraved work is highly desirable to collectors, Selby's original watercolors rarely become available. This selection of watercolors, moreover, comprises several of his masterpieces. The distinctive birds are depicted in profile, their forms delineated by softly modulated tones of black and gray wash. The setting, if present, is lightly but skillfully painted to not distract from the birds themselves. The skill and delicacy of Selby's touch, his keen powers of observation, and his artistic sensitivity are conveyed here in a way they are not in his printed work. Several of the drawings are by Selby's brother-in-law, Robert Mitford, but signed in Selby's hand. 

Born in Northumberland and educated at University College, Oxford, Selby was a landowner and squire with ample time to devote to studying the plant and animal life at his country estate, Twizell House. As a boy, he had studied the habits of local birds, drawn them, and learned how to preserve and set up specimens. Later, Selby became an active member of several British natural history societies and contributed many articles to their journals. Although Selby was interested in botany and produced a History of British Trees in 1842, he is best known for his Illustrations of British Ornithology. Selby's work was the first attempt to create a set of life-sized illustrations of British birds, remarkable for their naturalism and the delicacy of their execution. The British Ornithology was issued in nineteen parts over thirteen years; the book consisted of 89 plates of land birds and 129 plates of water birds, engraved by William Lizars of Edinburgh, the printer who engraved the first ten plates of Audubon's Birds of America.

With their rich detail and tonal range, these exquisite watercolors are beautiful works by one of the foremost British bird painters. Furthermore, they represent a singular opportunity to obtain a unique piece of the highest quality by this luminary artist, from an era in British ornithological art that remains unparalleled. 
Please feel free to contact us with questions by phone at 215.735.8811,
or by email at 
loricohen@aradergalleries.com
---
We Also Recommend