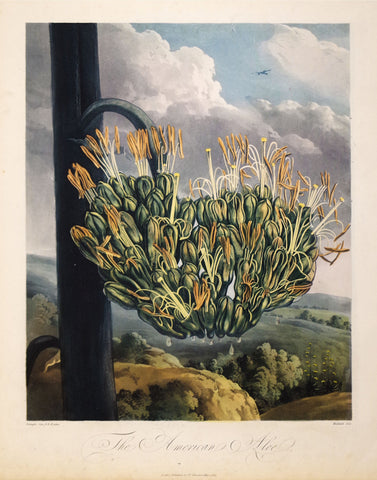 Robert John Thornton (1768-1837), The American Aloe
Robert John Thornton (1768-1837)
The American Aloe
From The Temple of Flora
London, 1799-1810
Mixed method engraving, including aquatint, mezzotint, stipple and line engraving, printed in color and finished by hand
Sheet size: approx. 22 3/4 x 17 1/4"
Robert John Thornton (1768-1837) was destined for a career in the church, but while at Trinity College, Cambridge he found inspiration in the botanical lectures of Thomas Martyn and switched to studying medicine. He went on to lecture in medical botany at Guy's Hospital. Conceived on a grandiose scale, Thornton's work was to comprise three parts: a dissertation on the sexual reproductive cycle of plates; an explanation of Linnaeus's plant system, lavishly illustrated with botanical plates and portraits of botanists; and "The Temple of Flora" which was to have no less than seventy large plates of exotic plant species arranged according to the classification system of Linnaeus. Each species was to appear in its native environment.
The production of the plates for The Temple of Flora involved a variety of techniques - aquatint, mezzotint, stipple engraving and stippling with line engraving or etching which required the participation of a large number of artists. Among those commissioned by Thornton were Philip Reinagle - who executed most of the preparatory drawings - Abraham Pether (known for his moody, quasi-Gothic landscapes), Sydenham Edwards, and Peter Henderson, and the engravers Richard Earlom, James Caldwall, and Thomas Burke. Only the plate of the Rose was drawn by Thornton and executed by Earlom.
In spite of using a host of artists and engravers, Thornton managed to "maintain a remarkable homogeneity of style throughout" (An Oak Spring Flora), but production was a protracted stop-and-go affair, causing the text and plates to appear irregularly, and to bring Thornton ultimately to the brink of personal bankruptcy. Because some plates were withdrawn or reworked in the course of publication, it is not possible to establish a definitive collation of the work. For his contribution to English botanical illustration, Thornton has been compared to Redouté by Alan Thomas: "more or less coeval with Redouté in France came the production of the greatest English colour-plate flower book... What Redouté produced under the patronage of L'Héritier, Marie Antoinette, the Empress Josephine, Charles X and the Duchesse de Berry, Thornton set out to do alone. The result was almost total failure. His fortune was engulfed and his family reduced to penury... It is easy to raise one's eyebrows at Thornton's unworldly and injudicious approach to publishing... but he produced... the most strikingly beautiful set of flower plates ever to be printed in England [and] one of the loveliest books in the world.
(Great Books and Book Collectors pp. 142). Great Flower Books, p.77; Nissen BBI 1955; Grigson and Buchanan, Thornton's Temple of Flora (London, 1951). 
---
We Also Recommend