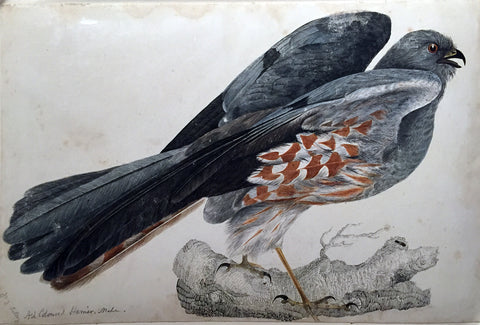 Prideaux John Selby (British, 1788-1867), "Ash Coloured Harrier, male"
Prideaux John Selby (British, 1788-1867)
"Ash Coloured Harrier, male"
Original watercolor prepared for Plate 11 of Illustrations of British Ornithology
Watercolor, gouache, grey and brown washes, pen and black ink on paper
Signed and inscribed lower left: P.J. Selby plate 1.11 1820
Paper size: 9 x 14 ¼ in.
Provenance: Collection of H. Bradley Martin.

Selby's description of the Ash-colored Harrier includes both male and female which follows (our watercolor includes just the male): "The British Fauna is indebted to the persevering researches and acute discrimination of our countryman Montagu for the discovery of this new species of falcon, the description of which he has most accurately given in the Supplement to the work I am so often proud to quote. The resemblance it bears to the Hen Harrier was without doubt the cause of its remaining so long unnoticed as a separate species, having in all probability, when previously met with, been considered only as a variety of that bird.
The specific distinctions are, however, whep subjected to the test of strict examination, obvious and well defined. The leading points of difference are the following. Though greatly inferior in weight, it exceeds the Hen Harrier considerably in dimensions, both as to length and extent of wing. The third quill-feather is much longer than any of the others, and its wings, when closed, reach beyond the extremity of the tail; whereas in the Circus cyaneus, they are shorter than the tail by two inches. The colour of the under wing-coverts, the belly, and thighs, is also very different. The ruff which encircles the back part of the head, and neck of the Hen Harrier, is not so distinctly marked in this species. The general contour and appearance of the two birds will be found, on comparison, to be very different. A close attention to the respective descriptions will also discover other minor traits of separation.
The Ash-coloured Harrier is far from being numerous in England. I have taken it in Northumberland, where it breeds upon the moors or open lands. It skims along the surface of the ground, like the Hen Harrier, but with more rapid flight, and more strikingly buoyant. Lives upon small birds, lizards, frogs, &c. nest is placed upon the ground, amongst furze or low brush-wood. The eggs are generally four, and of a pure white.
According to Temminck, it is found throughout Hungary, in Poland, Silesia, and Austria. It is common also in Dalmatia and the Illyrian Provinces, but is of rare occurrence in Italy.
Plate 11. A male bird, of adult age, and of natural size. Killed near Morpetli in Northumberland in 1817. Irides yellow. Head and upper parts of the body deep ash-grey, the tips and middle parts of most of the feathers blackish-grey. Throat and breast deep ash-grey. Belly, sides, and thighs, white, with reddish-brown streaks. Under wing-coverts barred with reddish-brown. Primary quills black; secondaries ash-grey above, beneath paler, with three blackish bars, one of which is visible on the outer side of the wing. Tail long, the two middle feathers grey, with a tinge of brown; the rest grey on the outer web, the inner having five reddish-brown bars. Legs slender and yellow. Toes short, the claws black. Since the above-mentioned year, I have killed two male specimens of this bird, both of which answered the foregoing.
Female. Bill bluish-black. Cere wax-yellow, Irides bright yellow. Crown of the head reddish-brown, with blackish-brown spots. Nape of the neck varied with orange-brown and white. Above and below the eye, is a streak of pale reddish- white. Ear-coverts deep umber-brown. Upper parts of the body umber-brown, the feathers margined with pale orange-brown. Lower part of the rump and the tail-coverts white, streaked with pale orange-brown. The whole of the under parts orange-brown, without spot or streak. Tail, having the two middle feathers nearly of an uniform brown, the rest being barred with pale orange- brown and umber-brown, except the outer feathers, which are barred with orange-brown and white. The young males, previous to the first moult, are similar in plumage to the female bird."
Prideaux John Selby (British, 1788-1867)
Considered by many as the English equivalent of Audubon, Prideaux John Selby created some of the most memorable bird images of the nineteenth-century. His contributions to British ornithology were rivaled only by those of John Gould. Yet, his pictures were larger and less purely scientific, exhibiting Selby's distinctive and charming style. A sense of Selby's enthusiasm for his subjects is nowhere more palpable than in his engaging original watercolors. Selby executed these delightful images as preparatory models for his landmark printed series, Illustrations of British Ornithology. While the artist's engraved work is highly desirable to collectors, Selby's original watercolors rarely become available. This selection of watercolors, moreover, comprises several of his masterpieces. The distinctive birds are depicted in profile, their forms delineated by softly modulated tones of black and gray wash. The setting, if present, is lightly but skillfully painted to not distract from the birds themselves. The skill and delicacy of Selby's touch, his keen powers of observation, and his artistic sensitivity are conveyed here in a way they are not in his printed work. Several of the drawings are by Selby's brother-in-law, Robert Mitford, but signed in Selby's hand. 

Born in Northumberland and educated at University College, Oxford, Selby was a landowner and squire with ample time to devote to studying the plant and animal life at his country estate, Twizell House. As a boy, he had studied the habits of local birds, drawn them, and learned how to preserve and set up specimens. Later, Selby became an active member of several British natural history societies and contributed many articles to their journals. Although Selby was interested in botany and produced a History of British Trees in 1842, he is best known for his Illustrations of British Ornithology. Selby's work was the first attempt to create a set of life-sized illustrations of British birds, remarkable for their naturalism and the delicacy of their execution. The British Ornithology was issued in nineteen parts over thirteen years; the book consisted of 89 plates of land birds and 129 plates of water birds, engraved by William Lizars of Edinburgh, the printer who engraved the first ten plates of Audubon's Birds of America.

With their rich detail and tonal range, these exquisite watercolors are beautiful works by one of the foremost British bird painters. Furthermore, they represent a singular opportunity to obtain a unique piece of the highest quality by this luminary artist, from an era in British ornithological art that remains unparalleled. 
Please feel free to contact us with questions by phone at 215.735.8811,
or by email at 
loricohen@aradergalleries.com
---
We Also Recommend