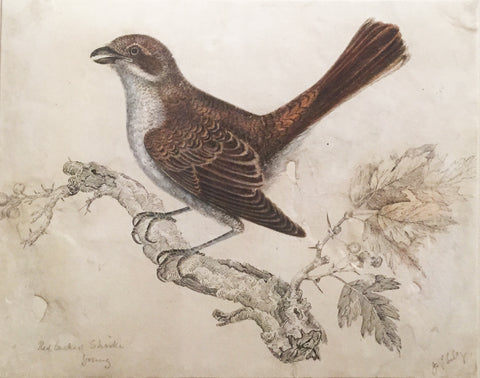 Prideaux John Selby (British, 1788-1867), "Red-backed Shrike, young"
Prideaux John Selby (British, 1788-1867)
"Red-backed Shrike, young"
Original watercolor prepared for Plate 43 of Illustrations of British Ornithology
Watercolor, gouache, pencil and ink on paper
Signed 'P.J. Selby' l.r., inscribed 'Red-backed Shrike, young; l.l.
Paper size: 7 1/2 x 9 1/2 in.
Frame size: 32 1/2 x 29 in.
London, ca. 1820
Provenance: Library of H Bradley Martin.
Selby wrote of the Red-backed Shrike: "The Red-backed Shrike is a regular periodical visitant in visitant. Britain, arriving in the spring, and commencing its equatorial migration in September or October, as soon as the young birds have acquired sufficient strength to undertake the journey. During its residence with us, it is but partially distributed, being confined principally to the southern and midland counties.

It is common on the extensive Downs of Sussex, and the adjoining hue of coast, particularly upon those which abound with furze and thorn-bushes. It is also well known in Wiltshire and Gloucestershire, and I have seen it in different parts of Wales. It is occasionally met with in Cumberland, and the western parts of Yorkshire, where it has received the name of Flusher, and a few instances have occurred of its appearance as far north as the river Tyne.

Its habits are similar to the preceding species, and it pursues the same method with respect to its prey, which is chiefly confined to insects, particularly those of the coleopterous order. It forms a nest of moss, intermixed with wool and dry grass, lined with hair, in furze or thorn bushes; laying five or six eggs, of a pinkish- white, with small spots of wood-brown, disposed like zones, chiefly at the larger end. The young birds, when nearly fledged, soon give notice of the place of their concealment, by becoming very clamorous upon any approach to the nest. The notes of this species are varied, and its song is pleasing.

Captain Mitford (whom I have before mentioned in this work) had an opportunity of observing the manners of these birds during the breeding-season, in the vicinity of Hastings, in Sussex, where they abound ; and assures me that he never observed any particular hostility displayed by them towards the neighbouring smaller birds ; and that he has found the nest of different species (Sylvia, &c.) within a very short distance of that of one of these Shrikes, which allowed them to bring up their young without molestation. It may be reared in confinement without difficulty, soon becoming tame. Montagu mentions having kept several, that shewed as much docility as Goldfinches. They were fed with flies and other insects, and, in deficiency of such food, with raw-flesh, which they always endeavoured to fasten to the wires or other parts of the cage, previous to tearing it in pieces.

This bird is very generally dispersed throughout Europe, and, according to Le Vaillant, is common in Africa, where it winters."
Prideaux John Selby (British, 1788-1867)
Considered by many as the English equivalent of Audubon, Prideaux John Selby created some of the most memorable bird images of the nineteenth-century. His contributions to British ornithology were rivaled only by those of John Gould. Yet, his pictures were larger and less purely scientific, exhibiting Selby's distinctive and charming style. A sense of Selby's enthusiasm for his subjects is nowhere more palpable than in his engaging original watercolors. Selby executed these delightful images as preparatory models for his landmark printed series, Illustrations of British Ornithology. While the artist's engraved work is highly desirable to collectors, Selby's original watercolors rarely become available. This selection of watercolors, moreover, comprises several of his masterpieces. The distinctive birds are depicted in profile, their forms delineated by softly modulated tones of black and gray wash. The setting, if present, is lightly but skillfully painted to not distract from the birds themselves. The skill and delicacy of Selby's touch, his keen powers of observation, and his artistic sensitivity are conveyed here in a way they are not in his printed work. Several of the drawings are by Selby's brother-in-law, Robert Mitford, but signed in Selby's hand. 

Born in Northumberland and educated at University College, Oxford, Selby was a landowner and squire with ample time to devote to studying the plant and animal life at his country estate, Twizell House. As a boy, he had studied the habits of local birds, drawn them, and learned how to preserve and set up specimens. Later, Selby became an active member of several British natural history societies and contributed many articles to their journals. Although Selby was interested in botany and produced a History of British Trees in 1842, he is best known for his Illustrations of British Ornithology. Selby's work was the first attempt to create a set of life-sized illustrations of British birds, remarkable for their naturalism and the delicacy of their execution. The British Ornithology was issued in nineteen parts over thirteen years; the book consisted of 89 plates of land birds and 129 plates of water birds, engraved by William Lizars of Edinburgh, the printer who engraved the first ten plates of Audubon's Birds of America.

With their rich detail and tonal range, these exquisite watercolors are beautiful works by one of the foremost British bird painters. Furthermore, they represent a singular opportunity to obtain a unique piece of the highest quality by this luminary artist, from an era in British ornithological art that remains unparalleled. 
Please feel free to contact us with questions by phone at 215.735.8811,
or by email at 
loricohen@aradergalleries.com
---
We Also Recommend