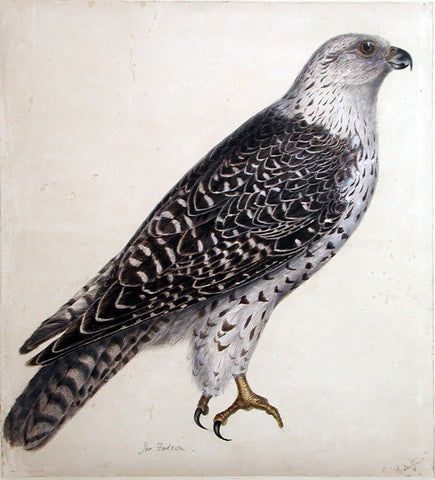 Prideaux John Selby (British, 1788-1867), "Jer Falcon"
$ 140,000.00

$ 140,000.00
---
---
Prideaux John Selby (British, 1788-1867)
"Jer Falcon"
Preparatory work for Prideaux John Selby's Plate 14 of Illustrations of British Ornithology
Watercolor, gouache, grey and brown washes, pen and black ink on paper
Signed lower right: R Mitford
London, ca. 1820
Paper size: 17 1/2 x 16 in

Selby's description of the Jer Falcon is as follows: "This is one of the most powerful, and at the same time one of the boldest of the whole genus.
As such, it was held in high estimation by the followers of that princely, but now neglected pastime we have before mentioned, and was used for flying at what were deemed the " nobler flights'" of game, such as cranes, herons, wild geese, &c.
According to " The Gentleman's Recreation" (an old but interesting treatise on hunting, hawking, and other field sports), this kind was difficult to reclaim; but, when once brought to obey the voice of the falconer, was of much greater value than any of the others.
The Jer-Falcon is of very rare occurrence in England; and I have never been able to examine a recent specimen on the south of the river Tweed. It is known in the northern parts of Scotland, particularly in the Orkney and Shetland Isles, and is enumerated by Mr Low in his Fauna Oread., but he appears to consider it as a visitant, not as a fixed inhabitant of those parts. In Europe, Iceland, Greenland, and other northern countries, are the native regions of this species ; and from the first of which it has obtained its trivial name. It was from this island, also, that the Royal falconries of Denmark and other kingdoms were supplied with their choicest casts of hawks.
According to Dr Richardson, the Jer-Falcon is a constant resident in the Hudson's Bay territories, where it is known by the name of the " Speckled Partridge Hawk," or by that of the " Winterer." He adds, it is not enumerated by Wilson or Bonaparte amongst the birds of the United States, and I am unable to give the exact southern limits of its range, though I have ascertained that it is occasionally found as far south as latitude 52°. It is found northward to the coast of the Arctic Sea ; and probably in the most northern Georgian Islands." Its geographical distribution, therefore, seems limited to latitudes not lower than 50°.
It breeds in the highest and most inaccessible rocks; but the number and colour of the eggs remain as yet undescribed- During the period of incubation, and while rearing its young, it becomes very daring ; as we learn from the following state ment of the author above mentioned. " In the middle of June 1821, a pair of these birds attacked me, as I was climbing in the vicinity of their nest, which was built on a lofty precipice on the borders of Point Lake, in latitude 65i°. They flew in circles, uttering loud and harsh screams, and alternately stooping with such velocity, that their motion through the air produced a loud rushing noise. They struck their claws within an inch or two of my head. I endeavoured, by keeping the barrel of my gun close to my cheek, and suddenly elevating its muzzle when they were in the act of striking, to ascertain whether they had the power of instantaneously changing the direction of their rapid course; and found that they invariably rose above the obstacle with the quickness of thought, shewing equal acuteness of vision, and power of motion, — It preys upon the larger species of game and wild-fowl, also on hares and quadrupeds, upon which it precipitates itself with amazing rapidity and force.
Its usual mode of hawking is, if possible, to out-soar its prey, and thence to dart perpendicularly upon it.
Plate 14. Represents a male of tliis species, of middle age, and in the natural size ; drawn from a specimen in the valuable collection of Joseph Sabine, Esq. General Bill very strong and thick; with a well-marked tooth. Color bluish-grey. Cere and orbits lemon-yellow. Irides reddish-brown. Head and neck white, with a few blackish-brown spots or streaks. Breast and belly white, slightly spotted in the same manner. Upper parts blackish-brown, the feathers spotted and margined with greyish-white, the bars of the feathers being also white. Tail banded, blackish-brown and white. Legs and toes yellow. Claws black."
Prideaux John Selby (British, 1788-1867)
Considered by many as the English equivalent of Audubon, Prideaux John Selby created some of the most memorable bird images of the nineteenth-century. His contributions to British ornithology were rivaled only by those of John Gould. Yet, his pictures were larger and less purely scientific, exhibiting Selby's distinctive and charming style. A sense of Selby's enthusiasm for his subjects is nowhere more palpable than in his engaging original watercolors. Selby executed these delightful images as preparatory models for his landmark printed series, Illustrations of British Ornithology. While the artist's engraved work is highly desirable to collectors, Selby's original watercolors rarely become available. This selection of watercolors, moreover, comprises several of his masterpieces. The distinctive birds are depicted in profile, their forms delineated by softly modulated tones of black and gray wash. The setting, if present, is lightly but skillfully painted to not distract from the birds themselves. The skill and delicacy of Selby's touch, his keen powers of observation, and his artistic sensitivity are conveyed here in a way they are not in his printed work. Several of the drawings are by Selby's brother-in-law, Robert Mitford, but signed in Selby's hand. 

Born in Northumberland and educated at University College, Oxford, Selby was a landowner and squire with ample time to devote to studying the plant and animal life at his country estate, Twizell House. As a boy, he had studied the habits of local birds, drawn them, and learned how to preserve and set up specimens. Later, Selby became an active member of several British natural history societies and contributed many articles to their journals. Although Selby was interested in botany and produced a History of British Trees in 1842, he is best known for his Illustrations of British Ornithology. Selby's work was the first attempt to create a set of life-sized illustrations of British birds, remarkable for their naturalism and the delicacy of their execution. The British Ornithology was issued in nineteen parts over thirteen years; the book consisted of 89 plates of land birds and 129 plates of water birds, engraved by William Lizars of Edinburgh, the printer who engraved the first ten plates of Audubon's Birds of America.

With their rich detail and tonal range, these exquisite watercolors are beautiful works by one of the foremost British bird painters. Furthermore, they represent a singular opportunity to obtain a unique piece of the highest quality by this luminary artist, from an era in British ornithological art that remains unparalleled. 
Please feel free to contact us with questions by phone at 215.735.8811,
or by email at 
loricohen@aradergalleries.com
---
We Also Recommend