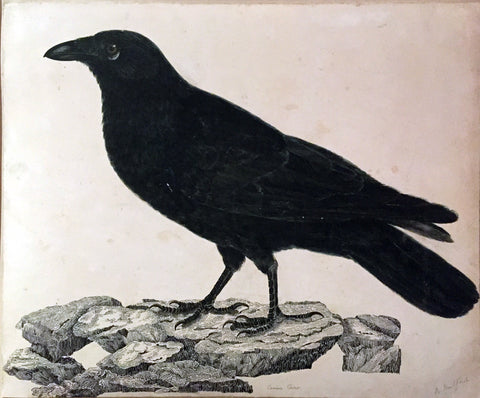 ROBERT MITFORD (BRITISH, 1781-1870), "A Carrion Crow"
ROBERT MITFORD (BRITISH, 1781-1870)
"A Carrion Crow"
Original watercolor prepared for Plate 28 of Illustrations of British Ornithology
Watercolor, pen and ink on paper
Signed 'R. Mitford' l.r., inscribed 'Carrion Crow' l.c., indistinctly inscribed 'plate 28' upper right
Paper size:14 1/2 x 17 5/8 in.
London, ca. 1820
Provenance: Library of H Bradley Martin.

Selby's text for the Carrion Crow is as follows: "This species bears a strong resemblance in form and habits to the Raven,but is much inferior in size. It may be readily distinguished from the Rook, by the greater strength and curvature of its bill, and which is never deprived of the bristly feathers that cover the base and nostrils, as is the case with the latter; its note also is hoarser, and the glossy tints of its plumage are more inclined to greenish-blue, than to the violet and purple of the Rook.

Carrion Crows seldom associate in numbers, but generally remain in pairs through the year. They are omnivorous, feeding indiscriminately upon Food, carrion, young birds or animals, eggs, roots, grain, &c., and, when pressed by hunger, will sometimes attack birds upon the wing. MONTAGU mentions, observing one in pursuit of a pigeon, at which it pounced like a hawk, and another that struck a pigeon dead from the roof of a barn. In the breeding-season, they are mortal enemies to the young of all poultry.

They chiefly frequent wooded districts, but are common throughout the kingdom. They build on trees, forming a nest of sticks, first plastered with clay, and then lined with wool, hair, and other soft materials. The eggs, four or five in number, are similar to those of the Raven. They breed early in the year, usually commencing their preparations in the beginning of February.

This species is common in the western parts of Europe, but of rare occurrence in the eastern. According to TEMMINCK, it is seldom seen in Austria or Hungary. He also observes, that in those countries where it is rare, as in Sweden, a mixed breed is sometimes produced between it and the Hooded Crow (Corvus comix).

PLATE 28. Figure of the natural size. General Bill strong, black, and the base always covered with fleeted bristly feathers. Plumage entirely black, the upper parts glossed with blue and greenish reflections.

Feathers of the throat narrow, small, and closely pressed together, the barbs riot adhering at the margins. Tail about half the length of the body, and rounded at the extremity. Legs and toes black, the scales being in lamina or plates. Claws black, hooked, and strong."


Prideaux John Selby (British, 1788-1867)
Considered by many as the English equivalent of Audubon, Prideaux John Selby created some of the most memorable bird images of the nineteenth-century. His contributions to British ornithology were rivaled only by those of John Gould. Yet, his pictures were larger and less purely scientific, exhibiting Selby's distinctive and charming style. A sense of Selby's enthusiasm for his subjects is nowhere more palpable than in his engaging original watercolors. Selby executed these delightful images as preparatory models for his landmark printed series, Illustrations of British Ornithology. While the artist's engraved work is highly desirable to collectors, Selby's original watercolors rarely become available. This selection of watercolors, moreover, comprises several of his masterpieces. The distinctive birds are depicted in profile, their forms delineated by softly modulated tones of black and gray wash. The setting, if present, is lightly but skillfully painted to not distract from the birds themselves. The skill and delicacy of Selby's touch, his keen powers of observation, and his artistic sensitivity are conveyed here in a way they are not in his printed work. Several of the drawings are by Selby's brother-in-law, Robert Mitford, but signed in Selby's hand. 

Born in Northumberland and educated at University College, Oxford, Selby was a landowner and squire with ample time to devote to studying the plant and animal life at his country estate, Twizell House. As a boy, he had studied the habits of local birds, drawn them, and learned how to preserve and set up specimens. Later, Selby became an active member of several British natural history societies and contributed many articles to their journals. Although Selby was interested in botany and produced a History of British Trees in 1842, he is best known for his Illustrations of British Ornithology. Selby's work was the first attempt to create a set of life-sized illustrations of British birds, remarkable for their naturalism and the delicacy of their execution. The British Ornithology was issued in nineteen parts over thirteen years; the book consisted of 89 plates of land birds and 129 plates of water birds, engraved by William Lizars of Edinburgh, the printer who engraved the first ten plates of Audubon's Birds of America.

With their rich detail and tonal range, these exquisite watercolors are beautiful works by one of the foremost British bird painters. Furthermore, they represent a singular opportunity to obtain a unique piece of the highest quality by this luminary artist, from an era in British ornithological art that remains unparalleled. 
Please feel free to contact us with questions by phone at 215.735.8811,
or by email at 
loricohen@aradergalleries.com
---
We Also Recommend