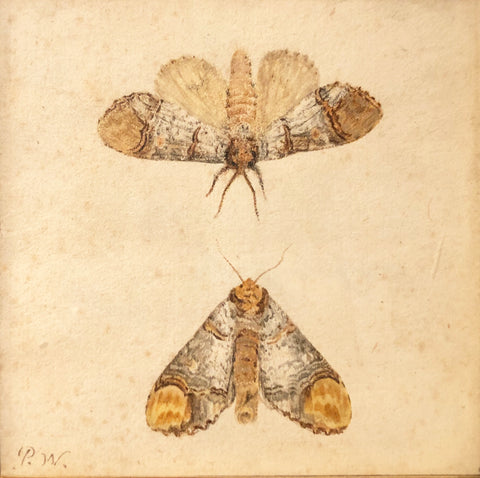 Pieter Withoos (Dutch, 1654-1693), Study of Two Moths
Pieter Withoos (Dutch, 1654-1693)
Study of Two Moths
Pen and brown ink and watercolor on off-white laid paper;
ruled border in black ink
Paper size: 3 1/2 x 3 3/4 in.
Framed size: 5 x 5 1/8 in.
Pieter Withoos was a noted natural history painter in late-seventeenth century Amsterdam. He excelled at painting birds, insects, and flowers in the challenging watercolor medium, his meticulous draftsmanship evident in the delineation of each individual hair or feather. These technically flawless depictions of a Male Teal and a Northern Shoveler Duck are rare examples in which Withoos depicted an American species. Shown in profile, each duck is portrayed in exacting detail, with glossy, iridescent plumage and a distinct sense of vitality. In order to avoid distraction from the birds themselves, Withoos provided minimal details of setting, but his inclusion of small mounds of grassy earth is nonetheless highly naturalistic, and places each duck within a plausible environment.

Withoos was the second son of Matthias Withoos, a prominent Dutch artist who specialized in painting city views, landscapes, portraits, and still-lifes, as well as plants and insects. Matthias spent two years in Rome, during which he won wide renown for his natural history works and worked frequently for the illustrious Cardinal de Medici. It was he who trained Pieter in the field of painting, imparting his style of exacting realism to his talented, but short-lived, son.
---
We Also Recommend