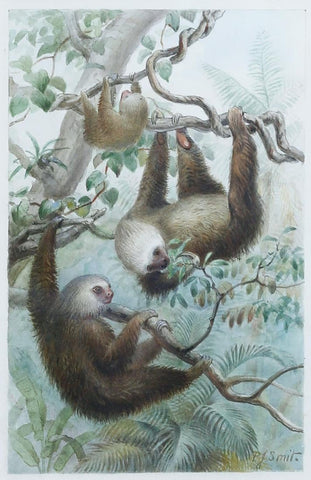 Pierre Jacques Smit (Dutch, 1863-1960) Hoffmann's Two-toed Sloth (Choloepus hoffmanni)
Pierre Jacques Smit (Dutch, 1863-1960)
Hoffmann's Two-toed Sloth (Choloepus hoffmanni)
Pencil and watercolor heightened with white on paper.
Signed lower right: P. J. Smit.
Sight size: 8 1/4 x 5 1/2 in.
Frame size: 15 1/2 x 13 in.

Provenance: Christies London, March 17, 1999.
Joseph Smit and his son Pierre-Jacques were prolific artists and lithographers working in London in the late nineteenth and early twentieth centuries. During their careers, the Smit's contributed to many important zoological and ornithological publications. The elder Smit worked closely with Joseph Wolf, Daniel Giraud Elliot, Joseph Keulemans, and Archibald Thorburn. This highly skilled core of artists produced some of the most aesthetically pleasing and scientifically accurate renderings of natural history ever produced.

Following in his father's footsteps, Pierre-Jacques began working with Joseph and the other artists and soon became an adept illustrator himself. During the years the two Smit's were working together, they contributed greatly to such works as the Transactions and Proceedings of the Zoological Society, and the 27 volume Catalogue of Birds in the Collection of the British Museum. The Smit's did not confine their interests to birds alone, but ranged over the whole animal kingdom, showing a marked preference for mammals.

The younger Smit's published work includes R. Lydekker's The Royal Natural History, London, 1893-1896; R. Lydekker, The Great and Small Game of Africa, London, 1899; D.G. Elliot's A Review of the Primates, New York, 1912 and the various reviews, transactions and proceedings of the Zoological Society of London.
---
We Also Recommend