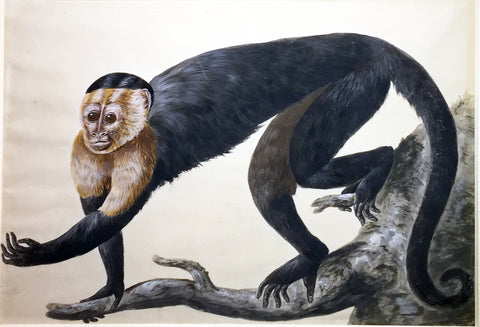 Peter Paillou (British, 1720-1790) A Male from Brasil as Large as Life [Monkey]
Peter Paillou (British, 1720-1790)
A Male from Brasil as Large as Life [Monkey]
Watercolor and gouache on laid paper with a 'crown/fleur de lys on shjield / [ob scured] II' watermark.
Collection number in iron gall ink on the upper right-hand corner
On the reverse in the side edge it is marked in pencil (later hand) 'P. Paillou'  over [in iron gall ink in 18th c. hand] 'A Male from Brasil as Large as Life'.
Paper size: 15 x 21 1/2 in..  
Frame size: 21 3/4 x 28 1/2 in.
Little is known of Peter Paillou's early career, but he gained repute in the 18th century as a natural history painter and illustrator.  He was employed by two leading naturalists and antiquarians of the time, Taylor White (1701-1772) and Thomas Pennant (1726-1798).  He illustrated the latter's British Zoology and decorated the hall at Downing, Pennant's house in Flintshire, with several pictures of birds and animals, four of which represented the seasons of the year. He also contributed plates to A natural history of birds by George Edwards, 1740–50.
This monkey, although horizontal format, corresponds closely with another monkey drawing in the Courtauld, same size and similar collection number in the corner. 
---
We Also Recommend