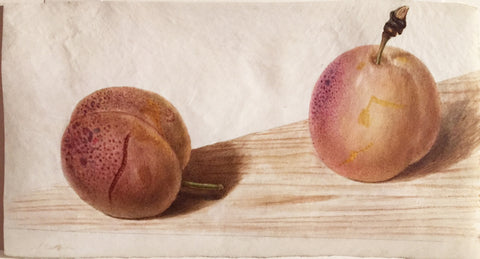 Pancrace Bessa (French, 1772-1846), Study of Cherries
Pancrace Bessa (French, 1772-1835)
Study of Cherries
Watercolor and pencil on paper
ca. 1825
Vellum size: 3 ¼ x 6 3/8 in.

Pancrace Bessa was one of the most talented and famous flower painters of his day and an outstanding pupil, both of Redoute and Gerard von Spaendonck.  Bessa exhibited regularly at the Paris Salon, and he produced watercolors on vellum for the French royal collection of watercolors on vellum known as the "Velins du Roi."  

Bessa is perhaps best known, however, for his printed works. He produced exquisite stipple engravings from his watercolors in many great botanical books.  Dunthorne describes his "Etudes des Fleurs et de Fruits" as "among the most exquisite of all flower prints in their beauty and delicacy of execution."  Bessa also collaborated with Redoute on several works, both as a painter and as a master engraver, producing the stunning engravings for Redoute's "Roses."

These finely rendered watercolors display Bessa's remarkable talent as a watercolor painter.  The expertly executed detail is combined with an exceptional richness of color and texture to produce beautiful and compelling works.  Their distinguished provenance attests to the esteem with which Bessa's original works garner, a sense that is confirmed by the impeccable quality of these watercolors.
Please feel free to contact us with questions by phone at 215.735.8811,
or by email at loricohen@aradergalleries.com 
---
We Also Recommend