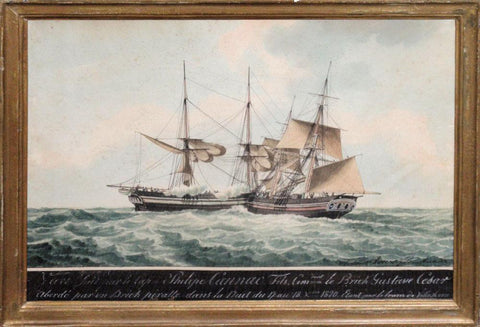 Mathieu Antoine Roux (1799-1872), Le Brick Gustave Cesar...
Mathieu Antoine Roux (1799-1872)
Le Brick Gustave Cesar... 1820 (shown under pirate attack)
Signed lower right: "Antne. Roux fils Marseilles"
Mixed media including watercolor, gouache, and pen & ink on paper
Sight size: 12 ½ x 17"
Frame size: 14 ¾ x 19" 
The Roux family of marine painters dominated the field of naval art in 19th-century Europe. Centered in the port city of Marseilles, the founding member of this painting dynasty was Joseph Roux (1725-1793), who trained his son, Joseph-Ange-Antoine (1765-1835), to follow in his footsteps. The younger Roux proved a highly gifted student, and his work was the inspiration for a generation of French and Italian ship portraitists, though his own work outstripped theirs in scope and quality. The most able disciples of Joseph-Ange-Antoine proved to be his own sons, Mathieu Antoine (1799-1872), Frederic (1805-1870), and Francois Geffroi (1811-1882), who continued painting into the late 19th century.
The period of the Roux family's activity, roughly 1780 to 1880, coincided with the time when ship portraiture was coming into its own as a genre. Throughout the 18th century there had been British and continental artists who had depicted ships at sea and in harbor, yet their subjects nearly always reflected the heroic actions of notable events, such as sea battles. During this period, however, a market was developing among mariners for images of their own ships, divorced from any narrative context, and this market spurred the willingness of painters to take on the task. The Roux were instrumental in this process, as their works were prime factors both in solidifying the characteristics of the genre, and in creating an even greater demand through their sheer quality.
---
We Also Recommend