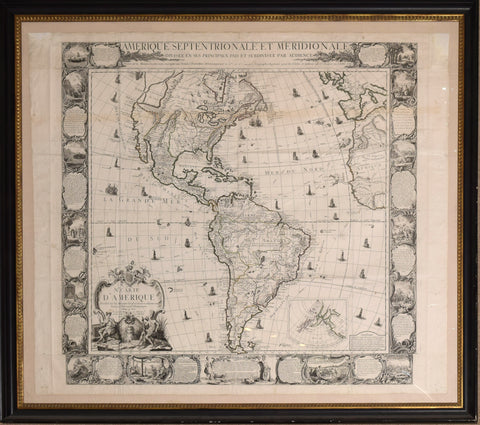 Louis Charles Desnos ((1725-1805) Amerique Septentrionale et Meridionale Divisee en ses Principaux Pais et Subdivisee par Audience. / Nle. Carte D'Amerique sue les Memories le plus recens assujetie aux derniers Observations Astronomiques. [Wall Map]
Louis Charles Desnos ((1725-1805)
Amerique Septentrionale et Meridionale Divisee en ses Principaux Pais et Subdivisee par Audience. / Nle. Carte D'Amerique sue les Memories le plus recens assujetie aux derniers Observations Astronomiques. [Wall Map]
Includes, inset map lower right "Mare Pacifique" and a border of allegorical scenes depicting the history and trade of the Americas
Published, Louis Charles Desnos, Paris, 1760, First edition
Engraving with original outline hand-coloring
Paper size 43 x 52"
Frame size 52 x 60 ¼"
Desnos' map is surrounded by allegorical scenes depicting the early discovery and history of America, along with scenes or early commerce, trade and subjugation of the indigenous peoples. In the Atlantic and Pacific Oceans, the routes of major explorers and circumnavigators are shown, with an array of early sailing ships.
The most notable feature of the map is the large depiction of the Sea of the West (also called the Bay of the West), one of the later remnants of the search for the northwest passage. The source of the modern myth of the Sea of the West are manuscript maps by Guillaume De L'Isle, the Royal Geographer to the King of France at the end of the 17th Century and beginning of the 18th Century. 
While De L'Isle never printed a map showing the Sea of the West, his rivals Nolin and Covens & Mortier each published such a map shortly after 1700, however, the myth languished until the 1740s, when French, Russian and English interest and explorations in the region intensified. From 1750 until about 1780, most maps depicted some form of the Sea of the West.
---
We Also Recommend