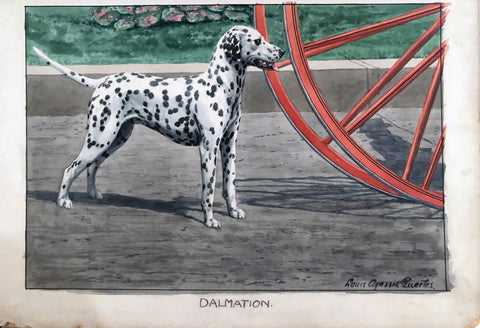 LOUIS AGASSIZ FUERTES (AMERICAN, 1874-1927) "Dalmatian, or Coach Dog"
LOUIS AGASSIZ FUERTES (AMERICAN, 1874-1927)
"Dalmatian, or Coach Dog"
Original watercolor prepared for The Book of Dogs: An Intimate Study of Mankind's
Best Friend. Washington, DC: National Geographic Society, 1919.
Watercolor and gouache on board
Board size: 7 7/8 x 13 in.

Fuertes described several dog breeds within the context of their former categorization. Writing here, "The Dalmatian was originally a "pointer" and in his native country was used for sporting purposes. But in England he was found to be very inferior to the native pointer, and, as he showed a marked fondness for horses and stables, he was specially trained as a "coach" or "carriage" dog.

For more than a hundred years before the day of the automobile, it was a common thing on English roads to see one of these muscular, deep-lunged, spotted dogs trotting easily between the hind wheels of a fashionable "turnout"—so close, in fact, that it had the appearance of "weaving" in and out as the horses' heels flew back. The automobile has virtually done away with it as a vehicle guardian and companion; still its unusual appearance has been sufficient to maintain it among the fancy and a goodly number find their way to the big shows.

The coach dog strongly resembles a small, straight-legged pointer in general conformation, and differs chiefly in the shorter ear, straight front, and less arched stifle.

In color it must be white, evenly spangled all over with round, clearly defined spots of black or dark brown. Black is preferable and more usual. These spots must be sharp, and the more even and uniformly distributed the better. They may be confluent on the ears—it is a virtue to have dark ears—but elsewhere on the body it is a fault. In size they should be from half an inch to an inch in diameter, roughly.

The legs should be strong and straight, of good bone, for speed and endurance. The feet should not be large, but compact, and with toes well arched and pads deep and elastic.

The coach dog should be from 19 to 23 inches high and weigh from 35 to 50 pounds."
Original watercolors prepared by Louis Agassiz Fuertes for The Book of Dogs: An Intimate Study of Mankind's Best Friend. Washington, DC: National Geographic Society, 1919.

      Fuertes' intention was plainly laid out in the introduction to this beautifully illustrated work. Writing, "The dog is a species without known beginning, and of all man's dependent animals the most variable in size, form, coat, and color.…The illustrator's problem in preparing this series was not the production of a 'standard of perfection' of the various "breeds" of dogs. It was to give, as far as possible, the proper appearance of acceptable types that have been dignified by a name, and to show in what way they are entitled to the friendship and care and companionship of man. Let it not be thought that it was an easy task, nor that had time, opportunity, early concentration, and a larger acquaintance with the field been part of the artist's equipment, the result would not have been far more satisfactory to the reader and to him… If these pictures it has been less his notion to establish types and a pictorial standard than to show the "man on the street" the general appearance and the special reason for being of the seventy- odd "kinds" of dogs that seemed to the editor and the artist best included in such an exposition as this. There are, of course, other recognized varieties of dogs, but those shown are the kinds best known."

      Fuertes relied on readily available titles such as Leighton's "Book of the Dog" and Watson's "Dog Book" (first 2 vol. ed.) to "Field and Fancy,'' and to the illustrated supplements to "Our Dogs," as well as photographs provided to him from various kennels and helpful men and women known to him. From which he created these charming canine illustrations. 
---
We Also Recommend