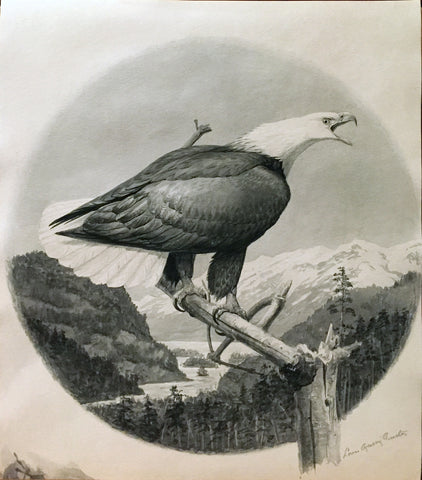 Louis Agassiz Fuertes (American, 1874 - 1927), Eagle Perched on a Branch
Louis Agassiz Fuertes (American, 1874 - 1927)
Eagle Perched on a Branch
Watercolor on paper
Signed 'Louis Agassiz Fuertes' l.r.
ca. 1900
Paper size: 10 7/8 x 9 ½ in.

Louis Agassiz Fuertes (American, 1874-1927)
Louis Agassiz Fuertes was the most widely acclaimed American ornithological artist of his time. Born in Ithaca, New York, Fuertes began drawing birds at an early age, inspired by Audubon's Birds of America. By the time he was seventeen, his illustrations had qualified him as an associate member of the American Ornithologists' Union. Fuertes quickly became associated with leading ornithological scientists and artists, and he received professional commissions while still an undergraduate at Cornell.

Fuertes went on to produce a vast body of work for an extensive range of projects. His paintings and drawings invariably convey the artist's meticulous study of his subjects' form and behavior. His diligence, precision, and skill in draftsmanship produced some of the most animated and engaging bird illustrations of the twentieth century. Fuertes was determined to study and draw birds as they behaved in their natural habitats, unlike his predecessors, including Audubon, who took the easier route of drawing from stuffed specimens. As a result of this scrupulous and sensitive study of living birds, Fuertes' works are characterized by much greater accuracy and a sense of vitality. Perhaps more than any of the other great bird artists, Fuertes' birds are always full of life. In the book "A Celebration of Birds: The Life and Art of Louis Agassiz Fuertes," the noted specialist on ornithological art Roger Tory Peterson notes that even today, "most bird painters are still influenced directly or indirectly by Fuertes..."

Fuertes traveled widely to broaden his knowledge of birds and their habitats. In 1899, for example, he accompanied the Harriman Expedition to Alaska, a group that traveled up the coast as far as Plover Bay in Siberia. Sponsored by the railroad and mining magnate Edward Harriman, the elaborately outfitted expedition included well-known scientists such as John Burroughs and John Muir, landscape artists Frederick Dellenbaugh and Robert Swain Gifford, and photographer Edward Curtis.

By that time, Fuertes has widely acclaimed himself, his illustrations have been disseminated in several publications. Yet his original watercolors, the most compelling testaments to this great bird artist's unparalleled abilities, are quite rare.
Please feel free to contact us with questions by phone at 215.735.8811,
or by email at loricohen@aradergalleries.com 
---
We Also Recommend