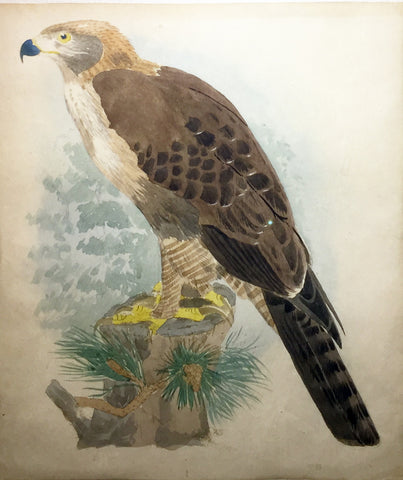 Joseph Wolf (German, 1820-1899), Falcon
Joseph Wolf (German, 1820-1899)
[Falcon]
Watercolor on paper
Paper size: 11 1/2 x 9 1/8 in.
Frame size: 21 1/2 x 19 1/4 in.
JOSEPH WOLF (GERMAN, 1820-1899)
Sir Edwin Landseer described Joseph Wolf as "...without exception the best all-round animal painter who ever lived." Born and educated in Prussia, Wolf left home at the age of 16 and apprenticed himself to the lithographic firm of Gebruder Becker in Coblenz, where he first met his future patron Hermann Schlegel, then the assistant keeper at the museum in Leyden and a prolific author of ornithological works. After brief spells in Frankfurt and Darmstadt, Wolf went to Holland and settled in Leyden in 1840; he was soon at work on the illustrations for Traite de Fauconnerie by Schlegel and Wulverhorst. Working on this book on falconry, Wolf became an expert at portraying birds of prey, a flawless skill of representation that is in full evidence in his watercolors.

After developing contact with John Gould, Wolf established himself in London in 1848, where he exhibited at the Royal Academy, met Edwin Landseer and other animal artists, and won the patronage of discerning collectors like the Duke of Argyll and Lord Derby. He quickly became the foremost animal illustrator in Britain. Wolf had a long and productive relationship with Gould, contributing plates to The Birds of Asia and The Birds of Great Britain, and Gould became a frequent visitor to Wolf's studio. The rapidity of the growth of his reputation was due, according to his biographer A.H. Palmer, to his power "of revivifying a dried skin and not merely revivifying, but showing the most characteristic and beautiful attitude and expression of the living bird or animal." However, Wolf did not wish to be categorized as a scientific illustrator, preferring to create complete and naturalistic compositions which conveyed a sense of drama and mystery. Rather than show his subjects isolated from their environment, he integrated them into a natural setting and portrayed them involved in dramatic action. This combination of animation and beauty characterizes Wolf's watercolors.

In 1852, the British Zoological Society commissioned Wolf to complete several watercolors for its Zoological Sketches published in parts between 1856 and 1867. P.L. Sclater, the secretary of the society, noted in the publication's preface, "the Council was fortunate enough to secure the services of Mr Joseph Wolf, who may be fairly said to stand alone in intimate knowledge of the habits and forms of Mammals and Birds." By this stage in his career, Wolf's works were in considerable demand both in their own right and as illustrations to books and journals. From 1859 to 1869 he was the regular artist for Ibis, the journal of the Zoological Society, and his work was also reproduced in the Illustrated London News, Once a Week, The Leisure Hour, The Sunday at Home, and The Graphic. Unfortunately, during the 1870s, Wolf was increasingly hindered by the onset of chronic rheumatism, which gradually curtailed his work, but he lived on into his eightieth year and died in London surrounded by his pet birds and held in high popular esteem. More than three-quarters of a century later his plates are regarded as among the finest productions of the great period of the illustrated book, while his oil paintings, watercolors and drawings are prized by museums and collectors alike.
Please feel free to contact us with questions by phone at 215.735.8811,
or by email at
loricohen@aradergalleries.com
---
We Also Recommend