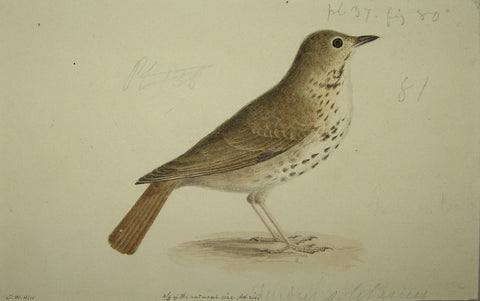 John William Hill (American, 1812-1879), "The Hermit Thrush"
John William Hill (American, 1812-1879)
"The Hermit Thrush"
Prepared for James DeKay's Zoology of New York, Part 2, Birds
Watercolor and ink on paper laid down onto board
Signed lower left: J.W. Hill
Numbered upper right
Annotated lower center
1842-44
Paper size: 6 3/4 x 4 1/2 in

"The Hermit Thrush, as its name implies, is a shy solitary bird, resembling in its general color the European Nightingale, and scarcely inferior to that bird in its low-toned and melodious notes. It is readily distinguished from the preceding, by its smaller size, and the peculiar shape of its spots beneath. It is found in every part of the State, which it reaches from the south about the middle of May. Its eggs are pale greenish-blue, spotted with olive. It ranges from Mexico to the fiftieth parallel of latitude." - James DeKay
John William Hill (American, 1812-1879)
The struggle to formulate a uniquely American style in the arts began in the 19th century when artists' goal became not the slavish imitation of their sophisticated European counterparts but the visual expression of a quintessentially American spirit. The works and careers of the Hill family of artists constitute an epic record of this struggle.

The family progenitor was John Hill (1770-1850), one of the most influential graphic artists working in America in the first half of the 19th-century. Hill learned his craft in London and achieved considerable success working for publishers of prints and illustrated books. In 1816 he emigrated to the United States in search of a better future for his growing family, settling in Philadelphia, where he quickly became the leading printmaker in the area. Hill's influence on the path of American art was profound. He was a key contributor to two groundbreaking projects, Joshua Shaw's Picturesque Views of American Scenery and William Guy Wall's Hudson River Portfolio. Begun in 1819, Picturesque Views was the first significant series of landscape scenes printed in America. Wall's Hudson River Portfolio (1820-1825) was also a cornerstone in the development of American printing and landscape painting. The views traced the Hudson River's course from Luzerne to Governor's Island, an undertaking that required Hill to move to New York in 1822. Both projects were wildly popular, primarily because of Hill's prodigious talents. These works served as significant catalysts in the growing appreciation for American scenery, both in the United States and in Europe.

Hill's name was carried on, and his achievements surpassed by his son, John William Hill (1812- 1879), the superb ornithological watercolors artist on the following pages. In 1822, John William began a seven-year apprenticeship with his father. His accomplished early work shows that he had fully absorbed the styles of his father. He exhibited at the National Academy of Design as early as 1828, was elected an Associate in 1833 (the same year he visited London to see old master paintings and to study), and contributed to the annual exhibitions regularly until 1873. Hill served as a topographical artist for the New York State Geological Survey from 1836 to 1841. After joining the Smith Brothers publishing firm in the late forties, traveled extensively in New England and upstate New York preparing watercolor views of major cities in North America.

John Hill prepared the following watercolors for James E. DeKay's Zoology of New York, or; The New-York Fauna. James E. DeKay (1792 – 1851) was an American zoologist who researched and compiled material for the first official Geological and Natural History Survey of New York in 1836. This resulted in his pioneering publication, Zoology of New York, or; The New-York Fauna, which detailed all the animals observed in the state.
Please feel free to contact us with questions by phone at 215.735.8811,
or by email at 
loricohen@aradergalleries.com
---
We Also Recommend