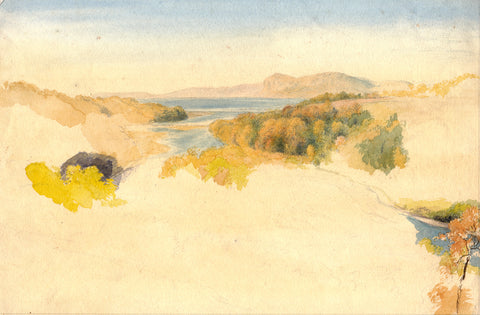 John William Hill (1812- 1879), Sketch of the Croton and Hudson Rivers
John William Hill (1812- 1879)
Sketch of the Croton and Hudson Rivers
7 7/8 x 11 3/4 in.

THE HILL FAMILY OF PAINTERS
John Hill (1770-1850) -- John William Hill (1812- 1879) -- John Henry Hill (1839-1922)
The struggle to formulate a unique American style in the arts began in the 19th century, when the goal for artists became not the slavish imitation of their sophisticated European counterparts, but the visual expression of a quintessentially American spirit. The works and careers of the Hill family of artists constitute an epic record of this struggle, the success of which can be traced in this unprecedented collection of original watercolors and sketches.

The progenitor of the family was John Hill (1770-1850), one of the most important graphic artists working in America in the first half of the 19th century. Hill learned his craft in London and achieved considerable success working for publishers of prints and illustrated books. In 1816 he emigrated to the United States in search of a better future for his growing family, settling in Philadelphia, where he quickly became the leading printmaker in the area. Hill's influence on the path of American art was profound. He was a key contributor to two groundbreaking projects, Joshua Shaw's Picturesque Views of American Scenery and William Guy Wall's Hudson River Portfolio. Begun in 1819, Picturesque Views was the first major series of landscape scenes to be printed in America. Wall's Hudson River Portfolio (1820-1825) was also a cornerstone in the development of American printing and landscape painting. The views traced the course of the Hudson River from Luzerne to Governor's Island, an undertaking that required Hill to move to New York in 1822. Both projects were wildly popular, primarily because of Hill's prodigious talents. These works served as major catalysts in the growing appreciation for American scenery, both in the United States and in Europe.

Hill's name was carried on and his achievements surpassed by his son, John William Hill (1812- 1879). In 1822, John William began a seven-year apprenticeship to his father, which gave him the opportunity to work on the plates for Wall's Hudson River Portfolio. His accomplished early work shows that he had fully absorbed the styles of both his father and Wall. He exhibited at the National Academy of Design as early as 1828, was elected an Associate in 1833 (the same year he visited London to see old master paintings and to study), and contributed to the annual exhibitions regularly until 1873. Hill served as a topographical artist for the New York State Geological Survey from 1836 to 1841 and, after joining the Smith Brothers publishing firm in the late forties, traveled extensively in New England and upstate New York preparing watercolor views of major cities in North America. Many of the sketches and watercolors pictured here were probably preparatory studies for his great views and landscapes; others are highly polished, intimate scenes meant as finished works in themselves. Most of them show locales in New England and upstate New York including the White Mountains. John William Hill is still considered one of the most important artists of American views, his works, especially those of New York, prized by collectors. The view of New York shown here (page one) is an exceedingly rare original example of his unsurpassed ability to evoke the essence of this thriving American port, which comes into view in the distance, across the Hudson.

Hill's artistic philosophy and technique were deeply affected when he read John Ruskin's Modern Painters in the mid 1850s. Ruskin was the most influential British art critic of the 19th century, and his ideal of truth to nature -- his challenge to artists to discard the mannered and effete style that centuries of conventionalized training had produced -- resonated deeply for Hill. The artists who aimed for this willful return to a more pure, "primitive" style were dubbed "Pre-Raphaelites," because the great Renaissance painter Raphael was seen to embody the moment when art was locked into rigid, stifling rules. Ruskin's ideas significantly changed Hill's direction and style, and he became a key figure in the American Pre-Raphaelite school. He devoted himself to painting directly from nature, depicting flowers, plants, fruits, and birds in natural backgrounds, using brilliant color and a high degree of exactitude.

Unlike the Pre-Raphaelite movement in England, in America watercolor was seen as the ideal medium for the new aesthetic. With its capacity to convey a sense of immediacy and for its special qualities of transparency and spontaneity, watercolor holds a unique ability to record fleeting changes in nature. Before the American Pre-Raphaelites, watercolor was seen as little more than a medium for preparatory studies. Yet because it allowed more truthful renderings of natural scenes and phenomena, its status began to rival that of more "refined" medium like oil. In 1850 Hill helped found the short-lived New York Water Color Society (the precursor of the American Watercolor Society, which is still active today). From this humble beginning in the efforts of Hill and a small group of his colleagues, watercolor in America has evolved into a major medium, considered an appropriate form of expression even for the most esteemed finished works. In 1863, Hill's artistic innovations were recognized officially when he became President of the American Pre-Raphaelite organization, the Society for the Advancement of Truth in Art.

John William Hill's son John Henry Hill (1839-1922) was steeped in this atmosphere and aesthetic. He studied painting with his father and first exhibited at the National Academy of Design in 1856. Elected an Associate Academician two years later, he exhibited watercolors, aquatints, and etchings there through 1891, and also showed his work regularly at the Brooklyn Art Association from 1865 to 1885. He joined his father as a founding member of the Association for the Advancement of Truth in Art, and embraced the same ideal of truth to nature, as well as devotion to the medium of watercolor. In 1868 and again in 1870, he traveled through Nevada, Utah, and northern California as a staff artist for a government surveying expedition. In addition to publishing An Artist's Memorial honoring his father in 1888, he promoted his father's works by reproducing some as etchings and donating others to The Metropolitan Museum of Art. His own works were praised by Ruskin, who told him in a letter of 1881 that he had a "very great art gift."

The sketches and watercolors of the three Hill artists are regarded as some of the best drawings in American art, demonstrating a distinct freshness and spontaneity. So ingrained is the taste for this aesthetic now that it is all but unbelievable that these nuanced works were considered radical in their time. The unprecedented collection illustrated here attests to a passionate pursuit of "truth in art" and to an inspiration from native scenery, factors that were indeed revolutionary in American art and crucial to its future development.

BIBLIOGRAPHY
J. H. Hill, An Artist's Memorial (New York, 1888); The New Path: Ruskin and the American Pre-Raphaelites, exhibition catalog, Brooklyn Museum of Art (Brooklyn, 1985); R. J. Koke, "John Hill, Master of Aquatint," New York Historical Society Quarterly XLIII/1 (1959), pp. 51-117; R. J. Koke, A Checklist of the American Engravings of John Hill, 1770-1850 (New York, 1961);R. Koke, ed., American Landscape and Genre Painting in the New York Historical Society (Boston, 1982).
---
We Also Recommend