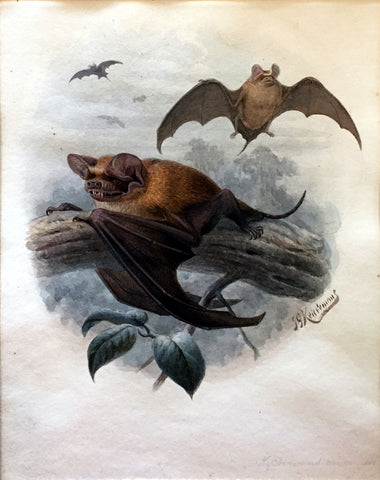 Johannes Gerardus Keulemans (Dutch, 1842-1912) Free-tailed Bat (Nyclinimos miareusis)
Johannes Gerardus Keulemans (Dutch, 1842-1912)
Free-tailed Bat (Nyclinimos miareusis)
Original watercolor likely for Alfred Grandider's L'Histoire Physique, Naturelle et Politique de Madagascar [Physical, Natural and Political History of Madagascar] Paris: 1875-1897
Watercolor and pencil on paper
Signed 'J.G. Keulemans' lower right
Ca. 1880
Sight size: 10 x 8 in.
An outstanding collection of original watercolors by Johannes Gerardus Keulemans likely prepared for Alfred Grandider's L'Histoire Physique, Naturelle et Politique de Madagascar.  Each figure is rendered in fine detail with pencil and watercolor in its natural forest habitat.

One of the foremost ornithological illustrators of the nineteenth century, John Gerrard Keulemans has received less recognition than is his due simply because he rarely published his own books, but rather contributed to a number of the most illustrious bird books of the time. Dutch by origin, he was the one of a select band of continental European bird and animal artists to be attracted to England during the middle and latter half of the nineteenth century. Over the course of his acclaimed career, his distinctive and exquisitely rendered bird illustrations graced publications including Daniel Giraud Elliot's monographs on the pheasants and hornbills, Henry Eeles Dresser's History of the Birds of Europe, Bowdler Sharpe's monograph on kingfishers and George E. Shelley's on sunbirds, as well as his own Natural History of the Cage Birds. Keulemans executed and lithographed more than one hundred plates for the British Museum Catalogue of Birds, attesting to his extraordinary diversity and ability to depict birds of widely different species from parrots to birds of prey. His illustrations of birds for works related to geographic regions is equally diverse, covering Great Britain, Europe, Abyssinia, Australia, New Zealand, India, South Africa, and Central America.

Born in Rotterdam in 1842, Keulemans worked for several years at the Leyden Museum, where, like his fellow artist Josef Wolf, he was encouraged by the influential Professor Hermann Schlegel, who gave him a number of important commissions. Like other protegés of Professor Schlegel, he was soon lured away by the outstanding opportunities offered by London, which was then the center for ornithological publications. John Gould had provided the first commissions for Wolf in London, and it was Gould's friend Richard Bowdler Sharpe who was responsible for luring Keulemans to England in 1869. By the turn of the century, any author of a bird-book requiring an illustrator almost automatically thought first of Keulemans. Although many of the publications that Keulemans contributed to were of an ostensibly documentary nature, his magnificent illustrations inevitably transcended mere science, distinguished by their splendid color and sophisticated compositions.

Keulemans's original work is extremely rare, and only in his watercolors can one attain a full understanding of his mastery as an ornithological artist. A number of Keulemans' original watercolors are in the collection of the British Museum or other institutions, and few become available to private collectors. This magnificent watercolor represents an important and unusual opportunity to attain an original work by one of the foremost bird artists working in Victorian Britain.
---
We Also Recommend