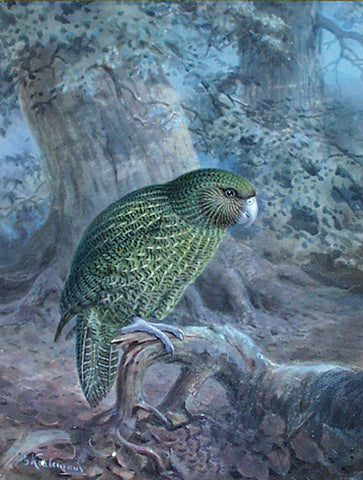 Johannes Gerardus Keulemans (Dutch, 1842-1912), The Kakapo or Owl Parrot
Johannes Gerardus Keulemans (Dutch, 1842-1912)
The Kakapo or Owl Parrot
Watercolor on paper
Signed lower left: JG Keulemans
ca. 1900
Paper size: 14 1/4 x 19 in
Frame size: 27 x 22 in

The kakapo (Strigops habroptila, G.R. Gray, 1845) or "owl parrot" is one of the rarest and most extraordinary parrot species, and is considered the heaviest non-flying parrot in the world. There are only 149 kakapos alive today. Its name is the English transliteration of "kākāpō" which is derived from the Māori terms kākā ("parrot") and pō ("night").

As an indigenous species to New Zealand, the kakapo has evolved to occupy an ecological niche normally filled by mammals. For example, by being nocturnal and a ground dwelling (although it is also an accomplished climber), he kakapo has distinct facial disc of sensory, vibrissa-like feathers, a large grey beak, short legs, large feet, wings and a tail of relatively short length. Its' diet is completely vegetarian which creates a musty-sweet odor. With an average lifespan of 90 years, the kakapo reaches one of the highest ages of all birds. Curious towards humans, it is said the individuals have distinct personalities and as a pet have been known to behave as "showing its attachment by playfulness and fondling is more like that of a dog than a bird".

Kakapo used to be widespread; they were well evolved to avoid predation from native birds of prey. When threatened, it freezes, depending on their camouflage as their plumage blends into the forest vegetation. Despite this, the population has declined massively since the appearance of mankind who introduced new predators. While this survival strategy worked with birds of prey that hunt by sight, it is completely ineffective to avoid mammalian predators that hunt by smell. This great threat began when European settlers in the 1840's brought dogs, cats, black rats and stoats to New Zealand. The parrots' habitat shrunk as forests were turned into farmland. In the late 19th century, the kakapo became well known as a scientific curiosity, and thousands were captured or killed for zoos, museums and collectors. They also breed rarely, in some cases only once in five years, depending on the riping of the rimu fruit. This complex breeding behavior results in having one of the lowest rates of reproduction among birds.

Consequently, the kakapo population declined making the species extremely rare. From 1894 onwards, multiple rescue attempts were made by relocating them from the mainland to the predator-free islands. However, disaster struck. In some cases, stoats swam to the islands and killed the few individuals that lived there. This brought the parrot to the brink of extinction; the lowest in 1995 when only 49 birds remained. Fortunately, nowadays the surviving kakapos are successfully managed by the Kakapo Recovery Programme on three predator-free islands: Codfish (Whenua Hou), Anchor, and Little Barrier islands. All kakapos carry radio transmitters and are intensively monitored throughout their lifetime. They have been given names, which is an affectionate way for the conservation staff to refer to individual birds, and provides stark reminder of how few remain.

This watercolor is the most iconic image of the kakapo ever created. It is illustrated in the second edition of the first and most important ornithological monograph on New Zealand. The author, Sir Walter Lawry Buller (1838-1906), was born in Hokianga, New Zealand and is acclaimed for his first-hand observations on the birds, as well as in their rapid decline. With his first monograph, Buller became the leading authority on this ornithologic field. In the introduction of A History of the Birds of New Zealand (1872-1873), Buller notes that, "some of these remarkable forms have already become almost, if not quite, extinct, and others are fast expiring. It has been the author's desire to collect and place on record a complete life-history of these birds before their final extirpation shall have rendered such a task impossible". The second edition has even more lithographs and are of a greater quality than the first. In his description of the kakapo, Buller states that the first skin arrived at the British Museum in 1845. He notes how dogs were a major threat, leading to their extinction, only a mere three decades after their discovery. Earlier depictions of kakapo show incorrect features of the bird, illustrating them as too slim and in and wrong body posture (see ill. 1 and 2).

In contrast, Keulemans' watercolor depicts the robust physique of the kakapo accurately. Keulemans illustrated many the best-known ornithology books of the nineteenth century, and Buller's monograph is no exception (ill. 3). In this piece, the kakapo lives up to its scientific name, as its head, posture and soft feathers resemble that of an owl. Keulemans pays detail to the intricate pattern of the yellowish moss-green and dark brownish plumage as well as the different structure of its' feathers; the beak is surrounded by "whiskers", while the ends of the tail feathers worn due to the continual dragging of its' plumage on the ground. The shadowing in his piece is beautifully done, providing the bird with great dimensionality. It is standing with one foot on a branch on the forest floor, which accurately depicts the bird in its' natural habitat. This is considered a remarkable achievement, as Keulemans never set foot on New Zealand himself.

Keulemans is able to create an eye-catching portrait of the kakapo, making it stand out, despite the birds' excellent ability to camouflage. Just like with his kea, he knows how to let the parrot stare into the eyes of the observer. It is not a coincidence that his kakapo has been the most well-known scientific illustration of the parrot in over a hundred years.
JOHN GERRARD KEULEMANS (DUTCH, 1842-1912)
One of the foremost ornithological illustrators of the nineteenth-century, John Gerrard Keulemans, has received less recognition than is his due simply because he rarely published his own books, but rather contributed to a number of the most notable bird books of the time. Dutch by origin, he was one of a select band of continental European bird and animal artists to be attracted to England during the middle and latter half of the nineteenth century. Throughout his acclaimed career, his distinctive and exquisitely rendered bird illustrations graced publications including Daniel Giraud Elliot's monographs on the pheasants and hornbills, Henry Eeles Dresser's History of the Birds of Europe, Bowdler Sharpe's monograph on kingfishers, and George E. Shelley's on sunbirds, as well as his own Natural History of the Cage Birds. Keulemans executed and lithographed more than one hundred plates for the British Museum Catalogue of Birds, attesting to his extraordinary diversity and ability to depict birds of widely different species from parrots to birds of prey. His illustrations of birds for works related to geographic regions are equally diverse, covering Great Britain, Europe, Abyssinia, Australia, New Zealand, India, South Africa, and Central America.

Born in Rotterdam in 1842, Keulemans worked for several years at the Leyden Museum. Like his fellow artist Josef Wolf, he was encouraged by the influential Professor Hermann Schlegel, who gave him several important commissions. Like other protegés of Professor Schlegel, he was soon lured away by London's outstanding opportunities, which was then the center for ornithological publications. John Gould had provided the first commissions for Wolf in London, and it was Gould's friend Richard Bowdler Sharpe was responsible for luring Keulemans to England in 1869. By the turn of the century, any author of a bird-book requiring an illustrator almost automatically thought first of Keulemans. Although many of the publications that Keulemans contributed to were ostensibly documentary, his magnificent illustrations inevitably transcended mere science, distinguished by their glorious color and sophisticated compositions.

Keulemans's original work is scarce, and only in his watercolors can one attain a full understanding of his mastery as an ornithological artist. Some Keulemans' original watercolors are in the collection of the British Museum or other institutions, and few become available to private collectors. This magnificent watercolor represents a valuable and unusual opportunity to attain an original work by one of the foremost bird artists working in Victorian Britain.
Please feel free to contact us with questions by phone at 215.735.8811,
or by email at 
loricohen@aradergalleries.com
---
We Also Recommend