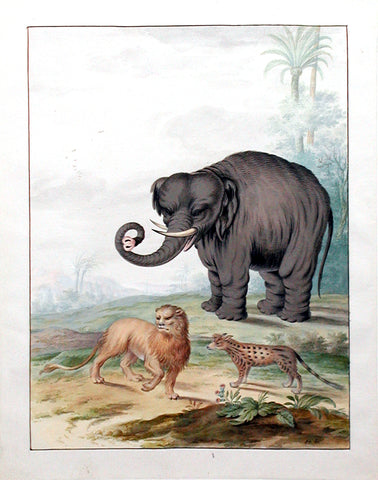 Johannes Bronckhorst (Dutch, 1648-1727) An Asian Elephant, a Lion and a Civet Cat in a Landscape
$ 140,000.00

$ 140,000.00
---
---
Johannes Bronckhorst (Dutch, 1648-1727)
An Asian Elephant, a Lion and a Civet Cat in a Landscape
Pen and black ink and watercolor and gum arabic within brown ink framing lines
Signed lower right: J. B. fec.
Paper size: 13 5/8 x 10 3/4 in
Provenance: Pieter van den Brande or Johan Pieter van den Brande, Middleburg; by descent to E. 
C. Baron van Pallandt; his sale Amsterdam, Mak van Waay, 26 September 1972, lot 290; and 
Unicorno Collection.
Exhibitons: Amsterdam/Dordrecht 1994-1995, cat. no. 30.
Literature: Anne M. Zaal, "Herman Henstenburgh 1667-1726," Dissertation (Vrije Universiteit, 
Amsterdam, 1991), reproduced vol.1, fig.20; W. W. Robinson, Seventeenth-Century Dutch 
Drawings: A Selection from the Maida and George Abrams Collection, Exh. Cat. (Amsterdam, 
Rijksmuseum, Vienna, Graphische Sammlung Albertina, New York, Pierpont Morgan Library, 
and Cambridge, Mass., Fogg Art Museum, 1991-1992), p 222, note 2.
 The early seventeenth century saw a burgeoning of interest in exotic animals and menageries and aviaries were established across Europe. The expansion of trade and growing exploration of the world resulted in wild animals being captured and returned to Europe as both objects of curiosity and scientific specimens. To begin with, these were mainly housed as part of royal collections and artists were frequently employed to paint these prized possessions.

Johannes Bronckhorst specialized in watercolors of exotic and indigenous birds, shown either individually or several to a sheet, taking the more scientifically based tradition of artists such as Pieter Holsteijn and developing it in more decorative directions. Bronckhorst also, more rarely, depicted mammals. The three elaborate compositional drawings from the Unicorno Collection, and here presented, are all particularly fine and complete examples of the artist's work. They all also originate from the Van den Brande Collection in Middelburg, and it is very possible that they were bought by that family directly from the artist.

In this beautiful watercolor, the full range of Bronckhorst's skill is spectacularly shown. He forges a remarkable synthesis between a concern for scientific truth and the decorative and exotic aspects of natural history that were highly prized by royal and private clients. In his presentations, Bronckhorst places the animals within a setting that provides a guide to scale and also an impression of the landscape of their natural habitats.

This striking watercolor is by one of the masters of natural history painting and valuable records showing the beginning of scientific discovery and the appreciation of the aesthetic.
---
We Also Recommend