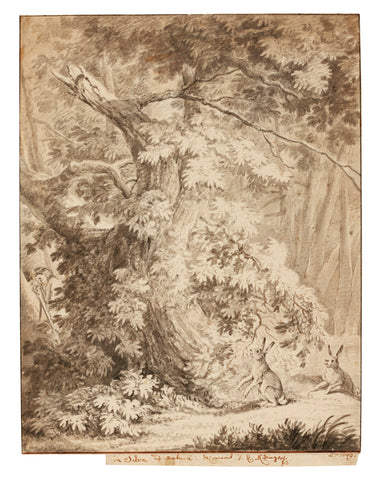 JOHANN ELIAS RIDINGER (GERMAN, 1698-1767), Hunter Aiming at Hares
JOHANN ELIAS RIDINGER (GERMAN, 1698-1767)
Hunter Aiming At Hares
Point of the brush and grey wash over black chalk, within black and brown ink framing lines on paper
Signed, dated and inscribed in pen and brown ink on an added strip of paper:  in Silva ad nattura: Delineavit J. E. Ridinger. ano. 1749.
Mount size: 11 ½ x 9"
Drawing size: 10 5/8 x 7 15/16"
Johann Elias Ridinger was one of the leading draughtsman and printmakers in Germany in the 18th-century.  

Born in Ulm in 1698, Johann's father was a scribe, who modeled small equestrian and animal figures in his spare time.  His formal artistic training began with the painter Christopher Resch. Later, he moved to Augsburg where he was mentored by animal and still-life painter Johann Falch who placed high importance on studying from nature. In 1719, he worked with Wolff Freiherr von Metternich who became a close acquaintance as well as a patron. Ridinger joined Metternich in Regensburg where he witnessed hunting first-hand and observed horses at the riding school. In 1722, he returned to Augsburg where he studied under painter and engraver Georg Phillip Rugendas. Late in his career, in 1759, he became the director of the Augsburg City Academy.

These lively compositions are deftly executed in pen, with a variety of lines used to differentiate between the textures of leaves, rocks, and bark. Layers of gray and brown wash indicate shade and suggest distance. The artist's knowledge of animal anatomy and movement is evident in the range of poses he selected for his hilly landscape.

Our drawings are similar in scale and execution to Ridinger's Stags in a Landscape in the collection of the Metropolitan Museum of Art which the museum acquired in 1974.
---
We Also Recommend