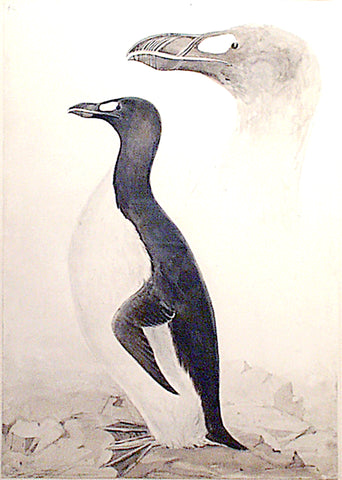 Edward Lear (British, 1812-1888) & Prideaux John Selby (British, 1788-1867), "Great Auk"
$ 350,000.00

$ 350,000.00
---
---
Edward Lear (British, 1812-1888) & Prideaux John Selby (British, 1788-1867)
"Great Auk"
Watercolor painting prepared for Plate 82, "Great Auk" in Selby's Illustrations of British Ornithology printed in London in 1841
Brown wash and ink over graphite on paper
Signed 'PJ Selby E Lear 1831' lower left. Numbered '82' upper left corner
1831
Paper size: 16 x 21 1/2 in
Frame size: 27 1/2 x 32 in
Provenance: Collection of H. Bradley Martin.
Literature: Noakes, Edward Lear 1812–1888 (Royal Academy of Arts) 6; Jackson, Bird Etchings, pp. 201–13; cf. Susan Chitty, That Singular Person Called Lear (1988); Susan Hyman, Edward Lear's Birds (1989).
When he was just sixteen—before his residence at Lord Stanley's Knowsley Hall and before his long but ultimately unsatisfying association with John Gould—Lear met and was employed by the naturalist John Prideaux Selby. "It is likely that Lear served an informal apprenticeship with Selby. If so, it was a fortunate training, for Selby demonstrated a bold and lively approach to his ornithological work which was ahead of his time, and which Lear was to develop with much skill in his later bird drawings" (Noakes, 6). Lear's biographer Susan Chitty also credits Selby for advancing the young artist's draughtsmanship, noting that "under his influence Lear's birds grew large and lively" (p. 19–20).

Selby's folio publication revolutionized ornithological illustration in Great Britain. "Selby's bird figures were the most accurate delineations of British birds to that date, and the liveliest. After so many books with small, stiff bird portraits, this new atlas with its life-size figures and more relaxed drawing was a great achievement in the long history of bird illustration" (Jackson, p. 212). Of the 277 known surviving original watercolors for Illustrations of British Ornithology, the "Great Auk" is the only one by Lear. The majority of the drawings, 217, are by Selby himself, with fifty-five contributed by his brother-in-law, Robert Mitford, and four by Sir William Jardine.

A preliminary pencil drawing of Lear's "Great Auk" is in the collection of the Blacker-Wood Library, McGill University. This preliminary drawing is not signed; the present watercolor wash drawing based on the McGill sketch is signed by Lear and inscribed by Selby, who executed and signed the etched plate. The etching enlarges the primary figure while eliminating completely the detail of the head in the upper right corner of the watercolor.

Lear's particular affinity for portraying big birds has been often remarked on. "The large, monstrous, sinister and eccentric birds ... are among the most remarkable bird drawings ever made, and it is evident that Lear endowed them with some measure of his own whimsy and intelligence, his energetic curiosity, his self-conscious clumsiness and his unselfconcious charm" (Hyman, p. 45). Certainly Lear's wonderful "Great Auk" exhibits more than a hint of self-portraiture.
EDWARD LEAR (BRITISH, 1812-1888)
Edward Lear was born into a middle-class family at Holloway, North London, the penultimate of twenty-one children (and youngest to survive) of Ann Clark Skerrett and Jeremiah Lear. He was brought up by his eldest sister, also named Ann, twenty-one years his senior. Owing to the family's limited finances, Lear and his sister were required to leave the family home and live together when he was aged four. Ann doted on Edward and continued to act as a mother for him until her death, when he was almost fifty years of age.

Lear suffered from lifelong health afflictions. From the age of six he suffered frequent grand mal epileptic seizures, and bronchitis, asthma, and during later life, partial blindness. Lear experienced his first seizure at a fair near Highgate with his father. The event scared and embarrassed him. Lear felt lifelong guilt and shame for his epileptic condition. His adult diaries indicate that he always sensed the onset of a seizure in time to remove himself from public view. When Lear was about seven years old he began to show signs of depression, possibly due to the instability of his childhood. He suffered from periods of severe melancholia which he referred to as "the Morbids."

Lear was already drawing "for bread and cheese" by the time he was aged sixteen and soon developed into a serious "ornithological draughtsman" employed by the Zoological Society and then from 1832 to 1836 by the Earl of Derby, who kept a private menagerie at his estate, Knowsley Hall. He was the first major bird artist to draw birds from real live birds, instead of skins. Lear's first publication, published when he was nineteen years old, was Illustrations of the Family of Psittacidae, or Parrots in 1830. One of the greatest ornithological artists of his era, he taught Elizabeth Gould while also contributing to John Gould's works and was compared favorably with John James Audubon. Unfortunately his eyesight deteriorated too much to work with such precision on fine drawings and lithographic stones, thus he turned to landscape painting and travel.

In 1842, Lear began a journey into the Italian peninsula, traveling through the Lazio, Rome, Abruzzo, Molise, Apulia, Calabria, and Sicily. In personal notes, together with drawings, Lear gathered his impressions on the Italian way of life, folk traditions, and the beauty of the ancient monuments. He eventually settled in San Remo, on his beloved Mediterranean coast, in the 1870s, at a villa he named "Villa Tennyson."

In 1846, Lear published A Book of Nonsense, a volume of limericks that went through three editions and helped popularize the form and the genre of literary nonsense. In 1871, he published Nonsense Songs, Stories, Botany and Alphabets, which included his most famous nonsense song, The Owl and the Pussycat, which he wrote for the children of his patron Edward Stanley, 13th Earl of Derby. Many other works followed.

Lear's nonsense books were highly popular during his lifetime, but a rumor developed that "Edward Lear" was merely a pseudonym, and the books' true author was the man to whom Lear had dedicated the works, his patron the Earl of Derby. Promoters of this rumor offered as evidence the facts that both men were named Edward, and that "Lear" is an anagram of "Earl."

Lear's nonsense works are distinguished by a facility of verbal invention and a poet's delight in the sounds of words, both real and imaginary. A stuffed rhinoceros becomes a "diaphanous doorscraper." A "blue Boss-Woss" plunges into "a perpendicular, spicular, orbicular, quadrangular, circular depth of soft mud." His heroes are Quangle-Wangles, Pobbles, and Jumblies. One of his most famous verbal inventions, the phrase "runcible spoon," occurs in the closing lines of The Owl and the Pussycat, and is now found in many English dictionaries.

Among other travels, he visited Greece and Egypt during 1848–49, and toured India during 1873–75, including a brief detour to Ceylon. While traveling he produced large quantities of colored wash drawings in a distinctive style, which he converted later in his studio into oil and watercolor paintings, as well as prints for his books. His landscape style often shows views with strong sunlight, with intense contrasts of color.

Throughout his life he continued to paint seriously. He had a lifelong ambition to illustrate Tennyson's poems; near the end of his life a volume with a small number of illustrations was published.

After a long decline in his health, Lear died at his villa in 1888 of heart disease, from which he had suffered since at least 1870.
---
We Also Recommend