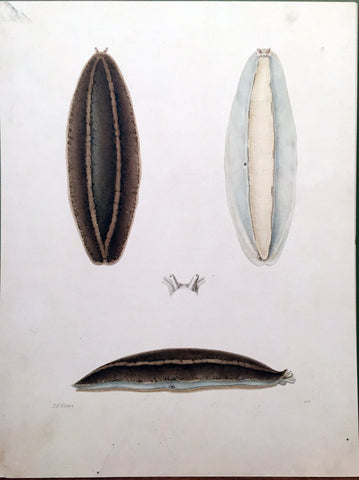 Jean-Gabriel Pretre (fl. 1824-1840) Shell Study 18
Jean- Gabriel Pretre (fl. 1824-1840)
Shell Study 18
Graphite and watercolor enhanced with white on Bristol paper
Signed lower left 'J.G. Prêtre'
Inscribed lower center with shell name
Dated lower right '1835'
Paper size: 9 x 11 in

Jean-Gabriel Prêtre was a Swiss-French natural history painter. He began his career as a natural history illustrator in arguably the finest private zoo in Europe, owned by Empress Josephine.  Later, he was an illustrator for the Natural History Museum in Paris.
Prêtre's talent was widely recognized and, therefore, he was frequently employed by naturalists to visually document plants, animals, and sea life.  These delicate pencil and watercolor works depicting various shells and mollusks were initial studies prepared by Pretre for Charles D'Orbigny's 'Dictionnaire Universel D'Histoire Naturelle' (1849).  D'orbigny's dictionary described and illustrated a wide range of botany, mammalia, ichthyology, and conchology.  The shell and sea life images by Prêtre are some of the most sought-after in the publication.
To date, no other original studies of shells have been found in public institutions. Thus, providing a unique opportunity to acquire an original work of art related to this celebrated publication.
---
We Also Recommend