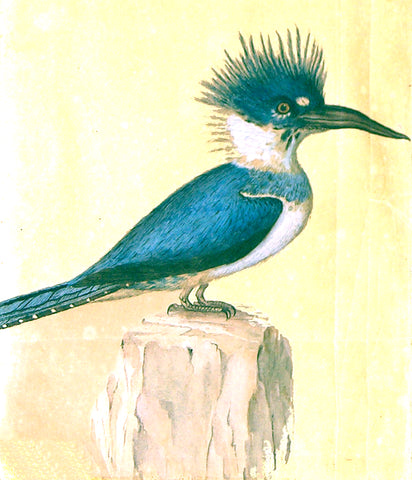 Thomas Davies (American, 1737-1812), Kingfisher
Thomas Davies (American, 1737-1812)
Kingfisher
Watercolor on paper
Signed "Davies" bottom right corner
ca. 1780
Paper size: 8 ½ x 10 ¼ in
Thomas Davies (c. 1737 – 1812) was a British Army officer, artist, and naturalist. Born in England, however, very little is known of his early life. Davies rose to the rank of Lieutenant-general in the Royal Artillery. He studied topographic drawing to provide detailed and accurate drawings for military use and recorded military operations in watercolor during several North America campaigns and later became a noted artist and naturalist. Davies' style combines the precision of military drafting technicians with the skills of naturalists.

Starting in 1759, he was with General Jeffery Amherst's forces, first at the Fort Ticonderoga and then at Fort Crown Point. In 1760, he fought in the attack against Montreal and commanded a boat in a naval battle, which he also illustrated. After the attack against Montreal, he surveyed Lake Ontario's regions for several years, producing both military maps and artistic landscapes. In 1776, Davies returned to North America with General William Howe during the American War for Independence. Under the command of General Charles Cornwallis at the Battle of Fort Lee, Davies captured the landing at the ascent of the Palisades by the British forces. In 1777, he was sent to command Fort Knyphausen, previously known as Fort Washington.

In 1780, Davies returned to England, and the following year elected a fellow of the Royal Society. He was also a fellow of the Linnean Society of London and contributed several articles, mainly regarding ornithology in Australia. In 1800, he was the first to illustrate and describe the superb lyrebird, in the Transactions of the Linnean Society of London.
Please feel free to contact us with questions by phone at 215.735.8811,
or by email at
loricohen@aradergalleries.com
---
We Also Recommend