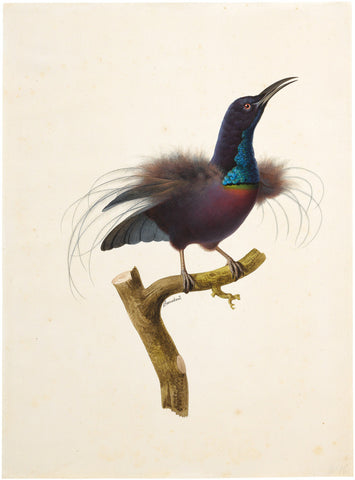 Jacques Barraband (French, 1767-1809), Magnificent Riflebird (Ptiloris Magnificus)
Jacques Barraband (French, 1767-1809)
Magnificent Riflebird (Ptiloris Magnificus)
Watercolor and gouache over black chalk on paper
Signed in brown ink, below the branch: 'Barraband' and bears numbering in pencil, lower right: No 16.
Paper size: 20½ by 14⅞ in
Provenance: Marcel Jeanson (1885-1942), sale of his collection, Monaco, Sotheby's, 16 June 1988, lot 223; with W. Graham Arader, New York

The magnificent riflebird, be found in the rainforests of western New Guinea, has an ostentatious courtship display.  This bird exhibits on a 'dancing perch'. During his presentation, the male fully extends his wings and raises his tail; he jerks upward while swinging his head from side to side, showing off his metallic blue-green breast shield, and producing a distinctive "woosh" sound as he flaps his wings.


 Jacques Barraband (french, 1767-1809)
Jacques Barraband's watercolors of birds are masterpieces of French ornithological illustration. Most of his stunning portraits were done for the distinguished ornithologist Francois Levaillant, who commissioned the artist to illustrate his landmark works on African ornithology, including the lavish and striking Histoire Naturelle des Perroquets. Images of African birds were popular in early 19th-century France both for their exoticism and for Africa's interest that Napoleon's campaigns were generating. The collaboration of Levaillant and Barraband represented a departure from previous ornithological texts in its emphasis on beauty and luxury, with sumptuously colored and flawlessly rendered birds.

The project was a massive undertaking, which required over 300 finished watercolors. Apart from their undoubted beauty, they display a scientific accuracy that few ornithological artists have matched since. Still, the meticulous hand-colored engravings in Levaillant's publications could not reach the delicate modulations of tone and color, the fine lines, and perfect draftsmanship of Barraband's original watercolors, which are exceptional in their richness and tonal variation. Each feather is described by dozens of parallel lines, providing remarkable detail and naturalistically textured color.

The key to Barraband's renown was his success as an illustrator of luxurious bird books. In addition to illustrating Francois Levaillant's Histoire naturelle des perroquets (1801-05), Barraband also executed the original watercolors for the ornithologist's Histoire naturelle des oiseaux de paradis (Birds of Paradise, 1801-06). These splendid watercolors demonstrate Barraband's unparalleled ability to render splendidly realistic images of exotic birds of all forms.

Barraband studied under Joseph Malaine and afterward worked as a draftsman in the Gobelin tapestry works. He painted porcelains exhibited at the Paris Salons from 1798 through 1806, and records at Sevres show that he supplied drawings to the factory there in 1806. He also decorated the dining-room in Napoleon's chateau at St. Cloud. His work for Francois Levaillant was undoubtedly the climax of his career. His drawings for Levaillant's splendid works placed him at the forefront of French ornithological artists at the beginning of the 19th century. As these flawless watercolors demonstrate, Barraband combined a high order's artistic ability with good taste and a rare aesthetic sense.
Please feel free to contact us with questions by phone at 215.735.8811,
or by email at
loricohen@aradergalleries.com
---
We Also Recommend