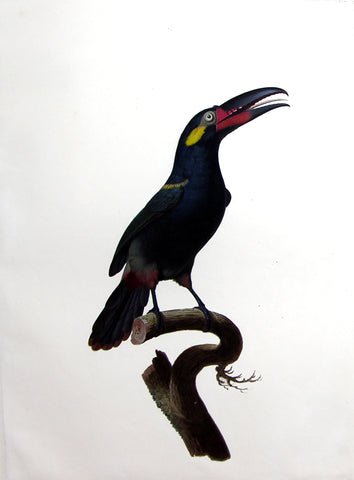 Jacques Barraband (French, 1767-1809), The Male Gianan Toucanet (L'Aracari Koulik de la Guyane)
$ 350,000.00

$ 350,000.00
---
---
Jacques Barraband (French, 1767-1809)
The Male Gianan Toucanet (L'Aracari Koulik de la Guyane)
Watercolor and gouache on paper
ca. 1800
Paper size app. 20 1/2 x 15 1/4 in
Frame size 30 7/8 x 25 3/4 in

Toucans are medium-sized bird native to the rainforests of Central and South America and the Caribbean. These birds are highly recognizable as they are brightly marked and have large, often-colorful bills. The toucan family, Ramphastidae, includes five genera and over forty different species. One genus with smaller birds is Selenidera, which contains seven species of dichromatic toucanets. Unlike most other toucans, the sexes are different ("dichromatic") in color. All seven species have green upper-parts, red undertail-coverts and a patch of bare blue or blue-green skin around the eye. The males have a black crown, nape, throat and breast and an orange or yellow auricular streak. The females of most species have the black sections in the male replaced by rich brown and a reduced or absent auricular streak. Of this genus two species are represented in the Histoire naturelle: the male spot-billed toucanet, l'Aracari Koulik Male du Brésil, (S. maculirostris) and the male and female Guianan toucanet, l'Aracari Koulik de la Guyane. The latter is quite exceptional. Until the beginning of the nineteenth century the quest for discovering as many bird species as possible was reflected in voluminous bird encyclopedias. Due to this focus, the birds' descriptions are often generic as they are copied directly from former natural history books. Levaillant breaks with this tradition by following the vision of Georges-Louis Leclerc, Comte de Buffon's (1707-1788) by writing extensive descriptions and detailed illustrations on one bird species. As a result, Levaillant was the first one to publish monographs, in this case, on bird families. Levaillant shows his ongoing interest in all facets of the birds, including their plumage, habit and other characteristics, along with all varieties that were known to him, as seen in the Histoire naturelle plates of both male and female Guianan toucanet. Due to Levaillant's connections in Holland and Paris, he was able to access many bird collections which allowed him to see, describe and illustrate numerous
(unknown) species and varieties. Unlike its name denotes, the bird is found not only in Guyana but also North-western Brazil, French Guiana, Venezuela and Levaillant's country of birth, Suriname. The calls of the Guianan toucanet are low-pitched and croaking. This is indicated with the word Koulik, which is, according to Levaillant, the birds' Creole name in Cayenne and represents the cry of this toucanet.

Levaillant discusses several habits and characteristics of the Guianan toucanet. For example, he notes the bird's habits and diet: "Les kouliks […] vivent dans les bois, nichent dans des trous d'arbres, et fréquentent les lieux cultivés , où ils causent beaucoup de dégâts aux fruits." The toucanets indeed feed mainly on fruit and they tend to forage alone or in pairs. Their nest is a cavity in a tree (often an old nest) which the birds enlarge by excavating with their bills. The white eggs are incubated by both parents. On the bird's appearance, he compares them with the better-known toucan species; the toucanet is smaller and its bill and tail is shorter, giving it a more compact appearance. The wings of the toucanet are remarkably small compared to his body. They do not pass the rump and, as Levaillant denotes, it does not allow it to rise very high and gives little grace to its flight. The Selenidera are found in the thick canopy of lowland rainforest, and do not need to travel large distances, which is why it cannot be in the air for very long. Instead, the toucan hops between the tree branches using its curved toes and sharp claws. One of the most extraordinary elements in this watercolor is the feather-like tongue. It is distinctive for the toucan species and clearly described by Levaillant. Looking at its posture, the bird seems to be in an excited state. It stands upright, with a raised, half-open bill and slightly spread wings and tail. The Guianan toucanet are fairly quiet and elusive birds--they keep a low profile and the position of their bill is more horizontal. Therefore, the upright posture is an indication Barraband made a watercolor from a mounted specimen. This becomes clear when we take a look at the bird's eyes and skin. When birds are mounted, these parts cannot be preserved or the colors tent to fade away rather quickly. The toucanet's irises are brown as opposed to the lighter colored eyes in the watercolor. Levaillant made an excellent observation in believing that the bare skin around the eyes is blue. Still, the watercolor shows a more grayish skin. Overall, and especially because of the lack of a living bird, it is still an incredibly valuable and convincing display of the toucanet species. Characteristic to Barraband's works of art, particularly in his later period, this bird is highly detailed with great care for colors and textures of plumage, skin and bill.
Jacques Barraband (french, 1767-1809)

Jacques Barraband's watercolors of birds are masterpieces of French ornithological illustration. Most of his stunning portraits were done for the distinguished ornithologist Francois Levaillant, who commissioned the artist to illustrate his landmark works on African ornithology, including the lavish and striking Histoire Naturelle des Perroquets. Images of African birds were popular in early 19th-century France both for their exoticism and for Africa's interest that Napoleon's campaigns were generating. The collaboration of Levaillant and Barraband represented a departure from previous ornithological texts in its emphasis on beauty and luxury, with sumptuously colored and flawlessly rendered birds.

The project was a massive undertaking, which required over 300 finished watercolors. Apart from their undoubted beauty, they display a scientific accuracy that few ornithological artists have matched since. Still, the meticulous hand-colored engravings in Levaillant's publications could not reach the delicate modulations of tone and color, the fine lines, and perfect draftsmanship of Barraband's original watercolors, which are exceptional in their richness and tonal variation. Each feather is described by dozens of parallel lines, providing remarkable detail and naturalistically textured color.

The key to Barraband's renown was his success as an illustrator of luxurious bird books. In addition to illustrating Francois Levaillant's Histoire naturelle des perroquets (1801-05), Barraband also executed the original watercolors for the ornithologist's Histoire naturelle des oiseaux de paradis (Birds of Paradise, 1801-06). These splendid watercolors demonstrate Barraband's unparalleled ability to render splendidly realistic images of exotic birds of all forms.

Barraband studied under Joseph Malaine and afterward worked as a draftsman in the Gobelin tapestry works. He painted porcelains exhibited at the Paris Salons from 1798 through 1806, and records at Sevres show that he supplied drawings to the factory there in 1806. He also decorated the dining-room in Napoleon's chateau at St. Cloud. His work for Francois Levaillant was undoubtedly the climax of his career. His drawings for Levaillant's splendid works placed him at the forefront of French ornithological artists at the beginning of the 19th century. As these flawless watercolors demonstrate, Barraband combined a high order's artistic ability with good taste and a rare aesthetic sense.
Please feel free to contact us with questions by phone at 215.735.8811,
or by email at
loricohen@aradergalleries.com
---
We Also Recommend