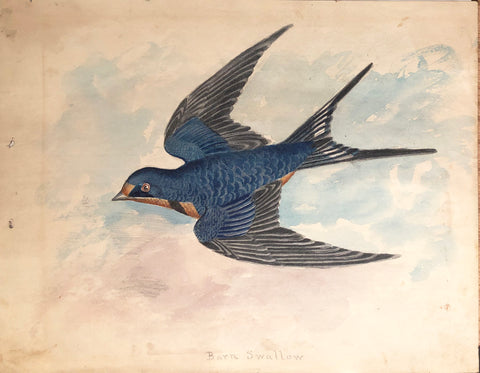 J. W. Abert (American, 1820-1897), Barn Swallow
J. W. Abert (American, 1820-1897)
Barn Swallow
Original ink and watercolor on paper
Ca. 1880s
Paper size: 8 ¼ x 11 in.

A barn swallow shown in full flight.
J.W. ABERT (AMERICAN, 1820-1897)
Original ornithological watercolors drawn by one of the foremost American expeditionary artists of the 19th century. Abert joined the U.S. Army Corps of Topographical Engineers in 1843, after a year in the infantry following his graduation from West Point.

Abert joined John Frémont's third expedition, illustrating the explorer's reports with his sketches. The artist was also in charge of a task force charged with mapping the Canadian River. In 1846, Abert joined General Kearney in the Mexican War. After the war, he returned to Fort Leavenworth. In his post-war years, Abert discovered a new species of bird, which was later named Abert's towhee. The artist continued to serve through the American Civil War. He eventually served under Robert Patterson, Nathaniel P. Banks, and Quincy A. Gillmore. Abert was wounded during the Maryland Campaign, and retired from the Army in June 1864.

Following his discharge from the Army, Abert became an examiner of patents in Washington, and finally a professor of mathematics and drawing at the University of Missouri. Several of the drawings in this collection are dated from the 1880s, and given the similarity in paper stock, style, and size, it is assumed all of them were made during Abert's time in Missouri. Some of the drawings have identical pairs of small holes along one of the shorter sides of the sheets, implying most have been removed from a sketchbook.
Please feel free to contact us with questions by phone at 215.735.8811,
or by email at 
loricohen@aradergalleries.com
---
We Also Recommend