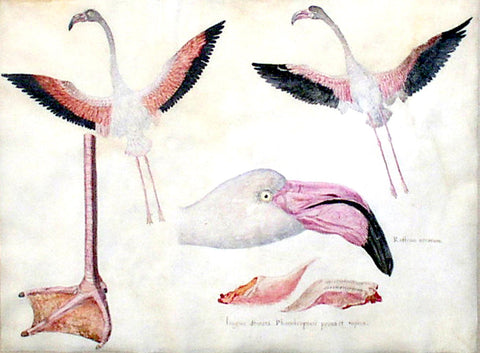 Italian School (17th Century), A Female Capercaille
$ 125,000.00

$ 125,000.00
---
---
Italian School (17th Century)
A Female Capercaille
Watercolor and gouache on paper
Annotation: 50
Paper size: 18 1/2 x 22 1/2 in
Frame size: 28 1/2 x 31 1/8 in
Provenance: Cassiano dal Pozzo, by descent to Cosimo Antonio dal Pozzo; Pope Clement XI; Cardinal Alessandro Albani; King George III; Mendelson, London; James R. Herbert Boone; Sotheby's (New York), 16 September 1988, lot 163; W. Graham Arader III.
Italian Painters of the Cassiano dal Pozzo (1588-1657) Collection

The following watercolors originate from one of the most ambitious projects in the history of art collecting: Cassiano dal Pozzo's Museo Cartaceo, or Paper Museum. Pozzo is celebrated today as one of the most important art patrons in seventeenth-century Italy. The principal scholars, antiquaries, scientists and collectors in Europe admired Cassiano above all for the extraordinarily important collection he began to assemble in the mid 1600s, the so-called Museo Cartaceo, or Paper Museum. This "museum" was to consist of drawings and prints of many relics of antiquity, and also of geological specimens, plants and animals from all over the world, and it was to be open for study to artists and scholars. For the extensive section on birds from which these striking watercolors originate, Cassiano wisely commissioned artworks from the best artists of his time, including Pietro da Cortona, Francesco Albani, Nicolas Poussin, Guido Reni, G.F. Romanelli, Andrea Sacchi, Paolo Ubaldini, and Vincenzo Leonardi.

Cassiano maintained connections with important patrons and friends, like the Medici family, who helped make their collections of bird specimens available for painterly use. Moreover, in 1603 he was admitted to Federico Cesi's Accademia dei Lincei, a scientific society of which Galileo was also a member. This must have given special impetus to dal Pozzo's collection of natural history drawings of which many of the bird studies were destined for reproduction in G. P. Olina's L'Uccelliera, published in 1622. Because of the renown of Cassiano's collection, much of it, including these watercolors, were later acquired by the English Royal Family.

Despite the generally scientific nature of the commissions, these birds are displayed with a large degree of artistry and attention to detail. In each study the birds appear alert and animated. Set against the contrasting white backgrounds, the minute detail found in the birds feathers is striking. The anonymous artist took great care to depict the birds feathers as accurately as possible and in the study of the flamingo made careful note of the beak and webbed foot. Both remain indispensable components to the original Museo Cartaceo collection.

Please feel free to contact us with questions by phone at 215.735.8811,
or by email at loricohen@aradergalleries.com 
---
We Also Recommend