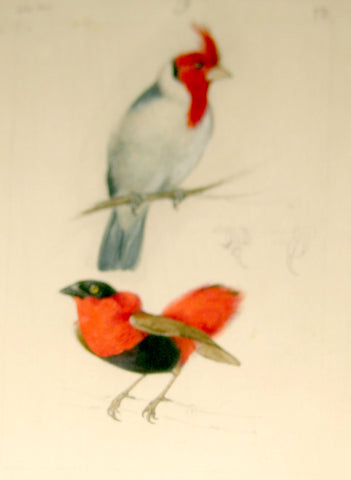 Hippolyte Pauquet & Polydore Pauquet (French 19th century), Untitled [Red and White Birds]
Hippolyte Pauquet & Polydore Pauquet (French 19th century)
Untitled [Red and White Birds]
For L'Histoire naturelle des oiseaux exotiques by C.L. Lemaire (Paris: Pauquet and Debure, 1835-6)
Watercolor on paper
Paper size: 5 1/2 x 9 in
Frame size: 14 1/2 x 17 3/4 in

HIPPOLYTE (1797-1871) AND POLYDORE PAUQUET
Original watercolors for L'Histoire naturelle des oiseaux exotiques by C.L. Lemaire (Paris: Pauquet and Debure, 1835-6).

These exquisite watercolors were done by the Pauquet brothers in preparation for the publication of their "L'Histoire naturelle des oiseaux exotiques" ("Natural history of Exotic Birds"), a splendid compendium devoting attention to the some of the most dramatic and colorful ornithological species. Done in pencil and watercolor on paper and mounted onto lightweight cardstock pages within ruled borders, they include manuscript notations in pencil and ink and numbers corresponding to the plate numbers of the prints. The book was issued in Royal Octavo format in Paris from 1835-36 and was comprised of 80 hand-colored engravings.

Hippolyte Pauquet was the elder of the two brothers and primarily responsible for translating the drawings into engravings, and thus this suite of watercolors is almost certainly the work of the younger brother, Polydore, though the two shared credit and almost always worked in collaboration. Both received their early training from their father, the engraver Jean Louis Charles Pauquet, and then attended the prestigious École des Beaux Arts in Paris. In recognition of their talents Hippolyte and Polydore exhibited their works at the distinguished Paris Salon during the 1820s and 1830s, though their primary renown came through their publications.

Please feel free to contact us with questions by phone at 215.735.8811,
or by email at 
loricohen@aradergalleries.com
---
We Also Recommend