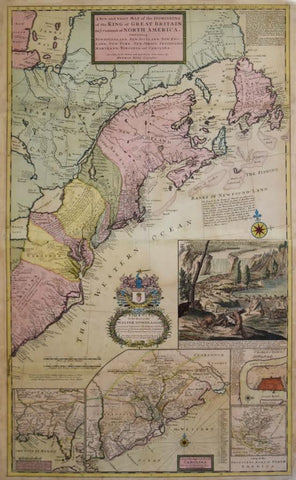 Herman Moll (1654-1732), A New and exact Map of the Dominions of the King of Great Britain on ye Continent of North America...
Herman Moll (1654-1732)
A New and exact Map of the Dominions of the King of Great Britain on ye Continent of North America...
Printed and Sold Tho: Bowles, London ca. 1715, 3rd state
Engraving with original hand-coloring
Paper size 40 3/4 x 25 1/8"
Frame size 46 1/2 x 31"
Ref: McCorckle, B. B.,  New England in Early Printed Maps 1513 to 1800, p.78
One of the most important maps of the 18th century relating to America, this was the first large-scale map to show English developments in North America, and also the first to show the American postal routes. Minutely detailed and finely engraved, this map includes some of the most thorough and exact detail to grace any 18th century map. It includes insets of Thomas Nairne's important and early map of South Carolina, the English, French and Indian settlements in the Carolinas, and Charleston Harbor. Moll's celebrated depiction of beavers at work occupies an inset at right, a view of Niagara Falls (and several of its inhabitants).
Herman Moll came to England from the Netherlands shortly after 1680 and became one of the most prolific cartographers of the first part of the eighteenth century. Early in his career, he used his skills as an engraver to obtain work from the cartographer Moses Pitt, among others. He had a knack for making interesting friends and involving himself in unusual projects, as he provided maps for Daniel Defoe's Robinson Crusoe and Jonathan Swift's Gulliver's Travels.
In 1689 he established his own London shop, and maps of a uniquely Moll character began to appear during Queen Anne's reign. His individual style of map-making grew increasingly more distinct as his career progressed. Moll's maps are noted for their elaborate design, clarity of lettering and numerous legends on the map's face. These lengthy writings give historical information about the geography, inhabitants, and overall particulars of the area shown. His impressive body of maps and atlases constitute some of the finest examples of early British cartography and summation of British knowledge at the time. Each is beautifully rendered and has great historical significance. 
Very few English mapmakers had made a name for themselves in the 16th and 17th centuries, because Dutch cartographers were generally so far ahead of their competition that challenging them seemed an insurmountable task. In the early 18th century, however, British cartography began a resurgence and Britain eventually displaced Holland as the most advanced map-producing nation. This is due in large measure to Britain's role in colonization, which by this time far superceded that of the Dutch and most other nations. With government surveyors working to chart colonies and potential colonies in distant lands, the British cartographers had a degree of access to geographical information that their foreign competitors did not. Another factor in the revival of British cartography was the immigration of Dutch mapmakers like Hermann Moll, who gained his expertise in his native country, and then applied that knowledge and experience to the sophisticated geographical information he was now privy to in Britain. With respect to accuracy and beauty, his maps were among the most impressive to be produced in the early 18th century, during the dynamic era of the British Enlightenment, and served as models for his fellow cartographers in Britain.
---
We Also Recommend