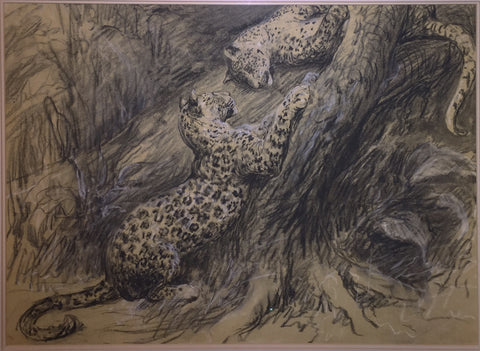 Herbert Thomas Dicksee (British, 1862-1942) Two Panthers
Herbert Thomas Dicksee (British, 1862-1942)
Two Panthers
Charcoal and gouache on buff paper
Paper size: 17¾ x 24¾ in.
Frame size: 28 1/4 x 35 in.
Two Panthers is an evocative work that captures an intimate moment between two reclining panthers who face each other by the foot of a tree. Suffused throughout the scene is a sense of intense emotional and psychic energy, which originates from the pair of animals and spread outward to their surroundings. One panther wears an expression of open yearning as it gazes at the other; both are nestled in relaxed poses, with loosely curled tails. The wild and rapid black charcoal marks that fill the composition, combined with a subtle overlay of white in select areas, give the work an impressionistic quality and serve as rare traces of the artist's hand. They also add rich texture and dimensionality to the panthers' musculature and patterned coats. 
Herbert T. Dicksee, the English painter, etcher and mezzotint engraver, became known particularly for his portrayal of animal subjects, namely lions and dogs. His works were executed primarily from life, and he kept many pets for inspiration. Prints and etchings of his best-known paintings were widely distributed by publishers such as Klackner of London, and his work is popular today among collectors and animal enthusiasts.

He came from a family of creatives. His father was the artist John Robert Dicksee (1817-1905). John's brother Thomas Francis (1819-1895), also a painter, was the father of Sir Frank Dicksee (1853-1928), president of the Royal Academy from 1924 until his death and Margaret Isabel Dicksee, also a painter.

Herbert Thomas studied art at the Slade School, where he won medals for painting and drawing from life and also the Slade Scholarship. In 1885 he exhibited at the Royal Academy and was also elected to be a member of the Royal Society of Painter-Etchers and Engravers (R.E.). Additionally, he was a drawing master at the City of London School and a Fellow of the Royal Society of Painters and Etchers and the London Zoo.
---
We Also Recommend