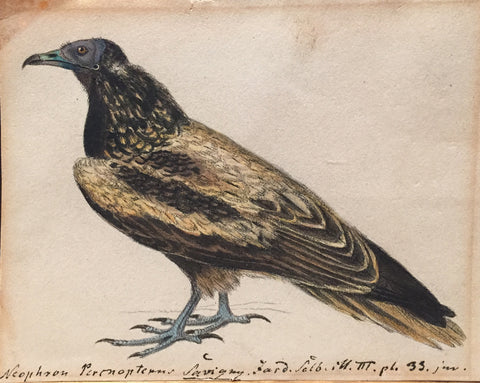 Heinrich Gottlieb Ludwig Reichenbach (German, 1793-1879), Neophron Perinopterum
Heinrich Gottlieb Ludwig Reichenbach (German, 1793-1879)
Neophron Perinopterum
Watercolor and ink on paper
Ca. 1845
Paper size: 3 1/2 x 4 1/4 in.
Born in Leipzig, Heinrich Gottlieb Ludwig Reichenbach studied medicine and natural science at the University of Leipzig in 1810. In 1820, he was appointed the Dresden Natural History Museum director and a professor at the Surgical-Medical Academy in Dresden, where he remained for many years.

Reichenbach later founded the Dresden Botanical Gardens and joint founder of Dresden Zoo. A fire almost destroyed the museum's zoological collection in the Zwinger palace during the constitutional crisis of 1849, but Reichenbach was able to replace it within only a few years. This collection is the basis of that seen in the museum today. Reichenbach was a prolific author and able botanical artist. His works included Iconographia Botanica seu Plantae criticae (1823–32, 10 vols.) and Handbuch der speciellen Ornithologie (1851–54).
Please feel free to contact us with questions by phone at 215.735.8811,
or by email at 
loricohen@aradergalleries.com
---
We Also Recommend