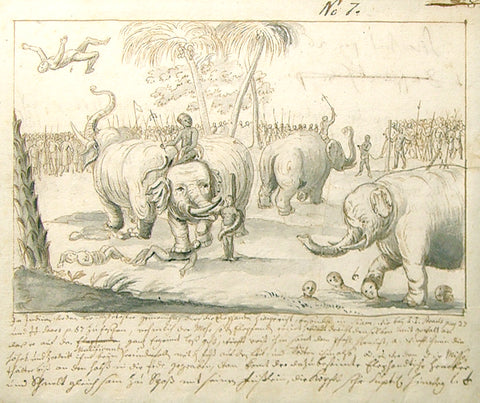 German School (18th century) Scene with Elephants, Rhinos and Warring Figures
German School (18th century)
Scene with Elephants, Rhinos and Warring Figures
Designs for book illustrations
Pen, brown ink and grey wash over black chalk
c. 1770s
Frame size: 14 3/4 x 16 in.
Provenance: T.H. Clarke, Esq., the foremost authority on representations of Rhinos
Literature: T.H. Clarke, The Rhinoceros from Durer to Stubbs. 1515-1799, London 1986, pp.
157/159, figs 121 and 123
Included in this cycle of four scenes is a drawing of a fight between an elephant and a rhino, a surprisingly popular theme throughout Western art which originated from Pliny's description of the creatures' natural animosity in his Natural History (AD 23-79). The text, translated into Germanwas transcribed by Durer in his celebrated 1515 drawing of the Rhinoceros, and was also included in most editions of the woodcut. The compositio of this subject in this group, with the rhino spearing the elephant's left side, resembles two prints of the same subject by Ambroise Pare for his Discours..de la Mumie (1852) and Antonio Tempesta's Rhinoceros Fight of 1605.
---
We Also Recommend