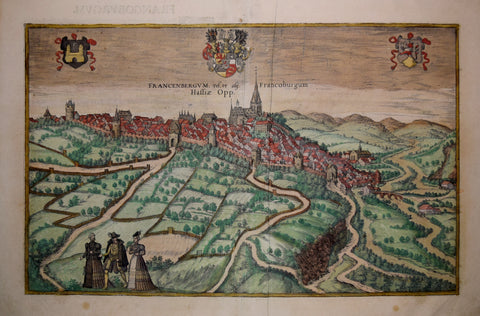 Georg Braun (1541-1622) & Franz Hogenberg (c.1538-1590), Francenbergum vel ut alij Francoburgum Hassiae Opp
Georg Braun (1541-1622) & Franz Hogenberg (c.1538-1590)
Francenbergum vel ut alij Francoburgum Hassiae Opp
Frankenberg, Germany
From: Civitas Orbis Terrarum 
Published, Cologne, 1572-1617
Engraving with original hand-coloring 
Paper size: approx. 16 1/2 x 21" 
The 'Civitates Orbis Terrarum' ('Atlas of the Cities of the World') by Braun and Hogenburg is the second oldest printed atlas in the history of world cartography; and the first atlas of towns. Its principal creators and authors were the theologist and editor Georg Braun, the most important engraver and publisher Franz Hogenberg. Other artists involved were Simon van den Neuvel, Georg Hoefnagel, Jacob van Deventer - to name a few. Although it was published outside of the Netherlands, the Civitates is considered one of the better examples of the Antwerp School of Cartographers, due to its Flemish style of engraving - a trait typical of Dutch atlases from the period. One of the most well-known figures from this school, who also played a key role in the making of this atlas, was Abraham Ortelius. It is frequently thought that the Civitates is the direct and intended companion for Ortelius' famous 'Theatrum Orbis Terrarum' (1570). In addition to this, there is evidence of correspondence between these three great men and their ideas to create such an atlas. 
The first volume of the Civitates Orbis Terrarum was published in Cologne in 1572. Its sixth and final volume appeared later in 1617. The Civitates was a widespread and enormously successful. It was frequently republished and supplemented with new sections with later editions. The maps it contained became exemplary and references; thus often reproduced in smaller formats as illustrations for books by other publishers. 
The atlas bares over 500 maps, representing an entire era in the lavish history of town-mapping. Earlier collections of city views were heterogeneous productions, limited in scope, and often made no meaningful attempt to render the subjects with any degree of realism. The Civitates, by contrast, contained hundreds of views, including many of smaller towns for which no earlier representations are known, depicted with unprecedented accuracy. Braun corresponded extensively with map sellers and scholars from different cities and countries to achieve the highest level of accuracy in his mapping. In addition, the authors also carried out their own investigations, through detailed on-location drawings of panoramic views of the towns made from some high point. It took over forty years to collect the hundreds of plans contained in the Civitates.
The plans, each accompanied by Braun's printed account of the town's history, situation and commerce, form a lavish armchair-traveler's compendium, and provide a uniquely comprehensive view of urban life at the turn of the sixteenth century. The significance of its being printed in Cologne extends to the city's independence of being a free imperial state. There were few cities which held this right in 16th century Europe; and Cologne's success as a free state resulted in great economic growth allowing for the growth of guilds and crafts, such as printing and publishing. 
---
We Also Recommend