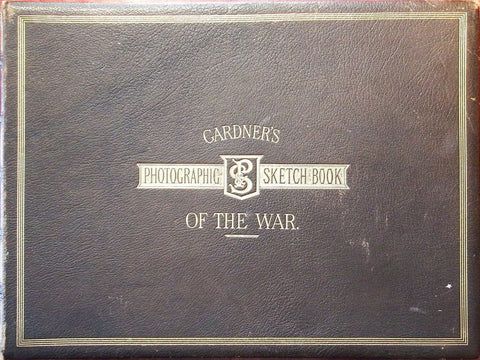 GARDNER, Alexander (1821-1882), photographer. Gardner's Photographic Sketch Book of the War.
$ 275,000.00

$ 275,000.00
---
---
AN EXCEPTIONALLY FINE COPY OF THIS MOST INFLUENTIAL AND ICONIC PHOTOGRAPHIC RECORD OF THE CIVIL WAR: AMERICA'S FIRST AND MOST IMPORTANT PHOTOGRAPHICALLY ILLUSTRATED BOOK
GARDNER, Alexander (1821-1882), photographer. Gardner's Photographic Sketch Book of the War. Washington: Philip & Solomons, [1866].
2 volumes, oblong folio (12 x 16 2/8 inches). Each volume with pictorial tinted lithographed title-page of military scenes by Alfred A. Waud. 100 SUPERB albumen prints (each approximately 7 x 9 inches) by Timothy H. O'Sullivan (45 images), Alexander Gardner (16), James gardner (10), the team of George N. Barnard and James F. Gibson (8), John Reekie (7), the team of John Wood and James F. Gibson (5), David Knox (4), William R. Pywell (3), David Woodbury (1), and W. Morris Smith (1), each neatly mounted on larger sheets within a tinted lithographed frame bearing captions, titles and credit lines, each preceded by a leaf of letterpress description (one photograph mount with 'tissue burn', one guard with short tear in the gutter). Original publisher's black bevelled morocco, gilt, over heavy boards, covers with central gilt-blocked title withing a gilt border of triple gilt filets, spine gilt-ruled in six compartments, with five raised bands, all edges gilt (extremities very slightly rubbed, corners a little scuffed).
PROVENANCE: with the 20th-century bookplate of Jane (1914-1996) and Sawyer Rank (1914-1958) on the front paste-down of volume one.
ONE OF SUBSTANTIALLY FEWER THAN 200 COPIES PRINTED, possibly as little as only 150 examples issued: 51 of which are now in institutional collections, with only a further 16 copies known in private circulation.
The Sketch Book, America's fledgling example of photo-journalism, was also a deluxe production, expensive to print, and expensive to buy. Printed in two versions in 1866, it was originally sold by subscription for a staggering $150, and issued custom-made in a variety of different coloured bindings, with a choice of gilt decoration, to order. The earliest examples released have a copyright date of 1865 and the series title "Incidents of War" on the mounts. This is the version with each photographic plate consecutively numbered and without "Incidents of the War" appearing in the caption. 
"In presenting the Photographic Sketch Book of the War to the attention of the public, it is designed that it shall speak for itself. The omission, therefore, of any remarks by way of preface might well be justified; and yet, perhaps, a few introductory words may not be amiss. As mementoes of the fearful struggle through which the country has just passed, it is confidently hoped that the following pages will possess an enduring interest. Localities that would scarcely have been known, and probably never remembered, save in the immediate vicinity, have become celebrated, and will ever be held sacred as memorable fields, where thousands of brave men yielded up their lives a willing sacrifice for the cause they had espoused. Verbal representations of such places, or scenes, may or may not have the merit of accuracy; but photographic presentments of them will be accepted by posterity with an undoubting faith. During the four years of war, almost every point of importance has been photographed, and the collection from which these views have been selected amounts to nearly three thousand" (Gardner Preface). 
As photographer, author and editor, of the Sketch Book, Gardner included views and accounts of the major Civil War battle-sites in Virginia, Maryland and North Carolina, such as Harper's Ferry, Antietam, Fredericksburg, Manassas, Cold Harbor, Gettysburg, Petersburg, and Appomattox, as well as now iconic individual photographs, "Home of a Rebel Sharpshooter" and "A Harvest of Death", which show the tragedy of Gettysburg. The Sketch Book documents the Civil War from the first battles at Centerville and Manassas in 1862 to the dedication of the commemorative monument at Bull Run in June 1865; alternating objective images of military fortifications, railroads and hastily built bridges, with intimate ones of soldiers at ease, in battle readiness, and the dead. Together these images have defined how we visualise the Civil War.
After witnessing the battle at Manassas, Virginia, Mathew B. Brady (1823?-1896), photographer and entrepreneur, decided to create a record of the Civil War using photographs. "Brady dispatched over 20 photographers, including Gardner, throughout the country to record the images of the conflict. Each man was equipped with his own travelling darkroom so that he could process the photographs on site.

"In November of 1861, Gardner was granted the rank of honorary Captain on the staff of General George McClellan. This put him in an excellent position to photograph the aftermath of America's bloodiest day, the Battle of Antietam. On September 19, 1862, two days after the battle, Gardner became the first of Brady's photographers to take images of the dead on the field. Over 70 of his photographs were put on display at Brady's New York gallery. In reviewing the exhibit, the New York Times stated that Brady was able to "bring home to us the terrible reality and earnestness of war. If he has not brought bodies and laid them in our door-yards and along streets, he has done something very like it…" Unfortunately, Gardner's name was not mentioned in the review.

"Gardner went on to cover more of the war's terrible battles, including Fredericksburg, Gettysburg, and the siege of Petersburg. He also took what is considered to be the last photograph of President Abraham Lincoln, just 5 days before his assassination. Gardner would go on to photograph the conspirators who were convicted of killing Lincoln, as well as their execution" (Civil War Trust online).
Late in 1862 Gardner left Mathew Brady's enterprise to open his own gallery in Washington, at the time he was "forty-one years old and arguably the most talented and ambitious photographer working in America" (Rosenheim, page 80). He took with him his own glass negatives and most of his assistants plates as well. As Brady had done he sent out his own team of photographers to record the exploits of the Union armies. "By the end of the war, he had amassed a collection of nearly three thousand glass negatives, from which he would select and print one hundred for his 1866 publication, "Gardner's Photographic Sketch Book of the War" (ibid). Uniquely Gardner credited the work of his photographers in the mounts of their published photographs. "No other gallerist or publisher in the country - not Brady or anthony, or d. Appleton, ... gave credit to the individual field operators who witnessed the carnage, slogged through the mud, and lived in their carriages and tents to get the pictures" (Rosenheim pages 82-83).
The lithographed title-pages are the work of Civil War artist Alfred R. Waud, although his name is mispelled 'Ward' on both title-pages. Waud's work as an artist-journalist covering the Civil War is his most important achievement. In April 1861 the News named him a "special artist" and assigned him to cover the Army of the Potomac, the primary Union army in Virginia. At first based in Washington, D.C. Waud covered every battle fought by the Army of the Potomac from "First Manassas in 1861 to Petersburg, Virginia, in 1865. Unlike the war photographers, whose cumbersome equipment prevented them from getting too close to any military engagement, Waud and his fellow special artists got into the thick of combat. Waud also depicted aspects of life in camp, such as the sutler's store and, on one occasion, the wedding of a Union officer. As Waud reported in Harper's Weekly on 3 October 1863, the life of a special artist was exciting but involved much discomfort and danger: "Your artist was the only person connected with newspapers permitted to go upon the recent advance to the Rapidan. . . . It was a very wet and uncomfortable trip part of the time. I did not get dry for two days; and was shot at into the bargain, at Raccoon Ford, where I unconsciously left the cover and became a target for about twenty sharpshooters. Luckily I was not touched; but I did some tall riding to get out of the way" (Ray, p. 29). In September 1862 Waud was detained behind Confederate lines, which presented him with a rare opportunity to sketch the enemy's troops. He was one of only two special artists present at the Battle of Gettysburg (the other was Edwin Forbes of Frank Leslie's Illustrated Newspaper) and was the only one to get close to the fighting. His drawing of Pickett's Charge is thought to be the only contemporary depiction by an eyewitness.

"Apart from temporary assignments in Washington, D.C., and Virginia's Shenandoah Valley in 1864 and 1865, Waud remained with the Army of the Potomac until the war's end. He was at Appomattox, Virginia, on 9 April 1865, when General Robert E. Lee surrendered to General Ulysses S. Grant. No artist or correspondent was permitted to observe the actual surrender ceremony, but Waud made two drawings of General Lee riding away afterward" (David Meschutt  for ANB).
"Gardner's Sketch Book remains to this day the finest photographic of the Civil War...regarded by some as the most significant photographically illustrated book published in the United States" (Katz). 
Arader Galleries is very grateful for the help of Ms. Anne E. Peterson, Curator of Photographs, the DeGolyer Library, Southern Methodist University, in cataloguing this book, and particularly for sharing with us her current census of known copies of the Sketch Book, and her important article "Alexander in Review", History of Photography, 34:4, 356-367. Howes G64; Mellby, "Gardner's Photographic Sketch Book of the War" in Princeton University Library Chronicle, Winter 2006, pp 435-4; Rosenheim Photography and the American Civil War 2013, chapter 7; Sabin 26635; Truthful Lens 68. 
---
We Also Recommend