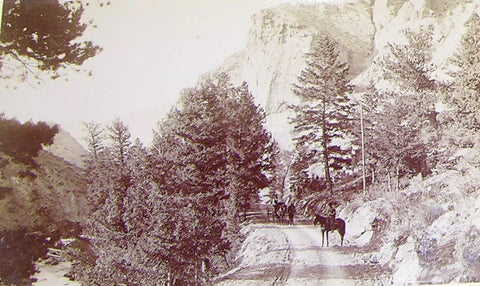 Frank Jay Haynes (1853-1921), Gardiner Canyon
Frank Jay Haynes (1853-1921)
Gardiner Canyon
YELLOWSTONE NATIONAL PARK
Number 1 penciled lower left-hand corner
Fine albumen print, mounted on archival matte
Photograph size: 5 x 8 in.
Matte board size: 11 x14 in.  
Provenance: from the library of William E. Hofman, his sale Christie's 3rd December, 2010, lot 343

A magnificent view of the road through Gardiner Canyon near the north entrance, showing men in horse and cart and on horseback.

Yellowstone, was the world's first national park, and "is situated mainly in Wyoming and extends into Montana and Idaho. It was established in 1872 by Congress, primarily because of its geysers, but also because of its remarkable assemblage of wildlife and unusual natural features. The "national park idea" pioneered at Yellowstone eventually spread worldwide. In the United States, Mackinac Island National Park (now a Michigan state park) was established in 1875 and Sequoia and Yosemite National Parks in 1890. (Yosemite had been a California state park since 1864.) Yellowstone remains the "mother park" in the U.S. national park system, which by the 1990s included 376 sites.
The celebrated photographer Haynes  was first hired as the official photographer of the Northern Pacific Railroad and "given his own travelling studio in a converted rail car, Haynesproduced numerous famous images of the railroad's construction projects and of sites along its route. He held that position for nearly three decades. He also was appointed in 1884 as Yellowston's official photographer and sold materials from a store in the park itself. He retired in 1916. His images of Yellowstone are among his more important and dramatic imagery" (see Dorothy Sloan, Western Americana,10/18/2006, lot 254).
"Boasting about three-quarters of the world's geysers (of which Old Faithful is the most famous) and over half of the thermal features, it also has one of the globe's most spectacular canyons, one of North America's most celebrated waterfalls, and more than 225 permanent waterfalls higher than fifteen feet. It has the premier wildlife sanctuary (and the top three trout-fishing streams) in the continental United States. Unmatched in the variety and number of its megafauna, the park shelters the world's largest concentration of elk and is one of the last remaining strongholds of the grizzly bear in the coterminous states. It is the only site in the United States (and one of only two in the world) where a wild bison herd has survived continuously since ancient times. At the center of the largest relatively intact ecosystem in the North Temperate Zone, its hundreds of lakes, creeks, mountains, and valleys survive in essentially pristine condition. As in all major parks, Yellowstone's administrators debate the appropriate forms of intervention to protect this delicate ecosystem and strive to balance the competing claims of public access and wilderness preservation" (see Aubrey L. Haines, The Yellowstone Story, 1996; James Pritchard, Preserving Yellowstone's Natural Conditions: Science and the Perception of Nature, 1999).
---
We Also Recommend