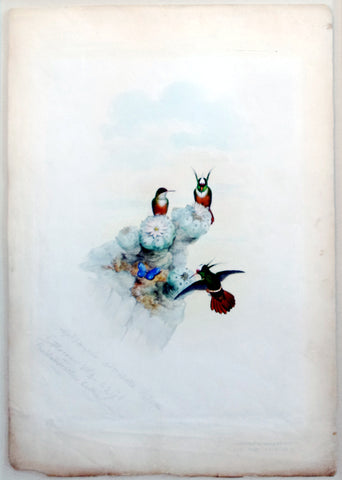 John Gould (British, 1804-1881), Lophornis adorabilis, Salvin or Salvin's Coquette
John Gould (British, 1804-1881)
Lophornis adorabilis, Salvin or Salvin's Coquette
Preparatory drawings for "A Monograph of the Trochilidae or family of Hummingbirds… Completed after the author's death… Supplement", plate 35.
Watercolor and pencil on paper
London: Henry Sotheran & Co., 1887
Paper size: 21 5/8 x 14 1/2 in.
Inscribed by Gould in his elderly hand "Lophornis adorabilis, Salvin. Flower vol, 3 – 4296 Echinocactus williamsii", and in a later hand, probably for publication "Lophornis adorabilis H.B. Supplement Plate 36" (some insignificant browning at edges). "bring to light the hidden treasures of the great primeval forests of the New World"
(Gould "Preface")

An extremely beautiful original watercolor of one of Gould's most treasured birds. Showing three Hummingbirds, one in flight, feeding from the pink and delicate flower of the small cactus Echinocactus williamsii, otherwise known as Lophophora williamsii. A small brilliantly blue butterfly, similar to the chalkhill blue, rests lightly on the chalky ground, all against a finely painted blue and cream sky. The image appears in reverse from the published plate, confirming that it was the original from which Richter engraved his stone.
JOHN GOULD (BRITISH, 1804-1881)
John Gould was without question the most prolific natural history artist of the nineteenth-century, and the only one to rival John James Audubon in ambition and quality. The nineteenth-century was a time of intense fascination with discoveries in natural history, especially regarding knowledge of the wildlife of exotic lands. Gould shared the romantic enthusiasm of his time for such subjects, as well as the popular impulse to catalogue exotic wildlife. He combined his passion for natural history with outstanding scientific, artistic, and entrepreneurial talents. Drawing on these abilities, he embarked on a series of projects that would eventually make him the leading publisher of ornithological illustrations in Victorian Britain. Gould's unparalleled career spanned five decades, and he produced a monumental series of books of birds throughout the world.

From the time he took up taxidermy in his early teens, Gould was devoted to recording bird life, either as he observed it personally or as it was reported to him by other ornithologists. He procured the scientific information through extensive correspondence, travel, and field research. The preparatory drawings that he produced were passed on for completion to skilled illustrators, most notably his wife, Elizabeth, and Edward Lear. The plates which resulted from such partnerships were a splendid fusion of art and science, with a scope that remains unsurpassed. Stunning and at the same time highly accurate, Gould's illustrations linked beauty to science, and science to beauty, in and an unprecedented manner.
Please feel free to contact us with questions by phone at 215.735.8811,
or by email at
loricohen@aradergalleries.com
---
We Also Recommend