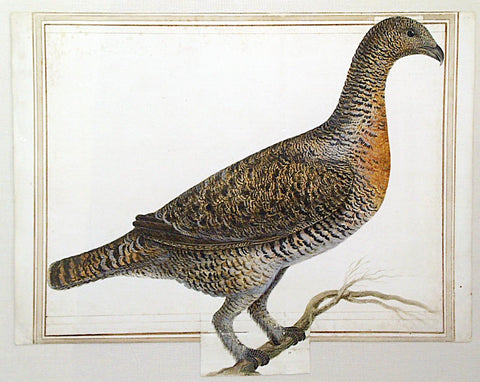 VINCENZO LEONARDI (ITALIAN, 1590-1646), Western capercaillie, Tetrao urogalius [A Female Capercaille]
VINCENZO LEONARDI (ITALIAN, 1590-1646)
Western capercaillie, Tetrao urogalius [A Female Capercaille]
Watercolor and gouache over black chalk on paper watermarked with a crown surmounted by a star. Flaps at top and bottom pasted down on mount.
Mount sheet in the dal Pozzo collection: type D. Type A frame lines along the top and bottom.
Annotation '50' lower right
Paper size: 18 1/2 x 22 1/2 in Frame size: 28 1/2 x 31 1/8 in
Provenance: Cassiano dal Pozzo, by descent to Cosimo Antonio dal Pozzo; Pope Clement XI;
Cardinal Alessandro Albani; King George III; Mendelson, London; James R. Herbert Boone;
Sotheby's (New York), 16 September 1988, lot 163; W. Graham Arader III.
 References: Vincenzo Leonardi, Western capercaillie, Tetrao urogallus, cat. no. 120 in McBurney and Violani, Birds, Other Animals and Natural Curiosities. The Paper Museum of Cassiano dal Pozzo, I, Royal Collection Trust, London 2017, p. 120.

 "This female capercaillie is a pair to [a male capercaillie in a private UK collection], and the two drawings bear sequential Pozzo numbers. The drawing is an accurate representation from life, showing the bird's characteristic cryptic plumage, orange-brown on the breast and brownwith black and silver barring on the upperparts; the female has a grey bill, rather than the yellow bill typical of the male. As with the male, the legs are feathered. 
 The depiction of the bird at life size (female 44-55cm, about 30 cm smaller than the male; as drawn c. 53 cm) made it necessary to extend the full-size folio sheet both at the top, to accommodate the crown of the head, and at the bottom to include the full length of the legs and the feet, together with the branch on which it is perching. The female is not shown in scale with the companion drawing of the male, which was too large to be drawn at life size." (Henrietta McBurney with Carlo Violani. The Paper Museum of Cassiano dal Pozzo. Series B- Parts Four and Five. Birds, Other Animals and Natural Curiosities. Pg. 314.
 The following watercolor originates from one of the most ambitious projects in the history of art collecting: Cassiano dal Pozzo's Museo Cartaceo, or Paper Museum. Pozzo is celebrated today as one of the most important art patrons in seventeenth-century Italy. The principal scholars, antiquaries, scientists and collectors in Europe admired Cassiano above all for the extraordinarily important collection he began to assemble in the mid 1600s, the so-called Museo Cartaceo, or Paper Museum. This "museum" was to consist of drawings and prints of many relics of antiquity, and also of geological specimens, plants and animals from all over the world, and it was to be open for study to artists and scholars. For the extensive section on birds from which these striking watercolors originate, Cassiano wisely commissioned artworks from the best artists of his time, including Pietro da Cortona, Francesco Albani, Nicolas Poussin, Guido Reni, G.F. Romanelli, Andrea Sacchi, Paolo Ubaldini, and Vincenzo Leonardi.

Cassiano maintained connections with important patrons and friends, like the Medici family, who helped make their collections of bird specimens available for painterly use. Moreover, in 1603 he was admitted to Federico Cesi's Accademia dei Lincei, a scientific society of which Galileo was also a member. This must have given special impetus to dal Pozzo's collection of natural history drawings of which many of the bird studies were destined for reproduction in G. P. Olina's L'Uccelliera, published in 1622. Because of the renown of Cassiano's collection, much of it, including these watercolors, were later acquired by the English Royal Family.
Please feel free to contact us with questions by phone at 215.735.8811,
or by email at loricohen@aradergalleries.com 
---
We Also Recommend