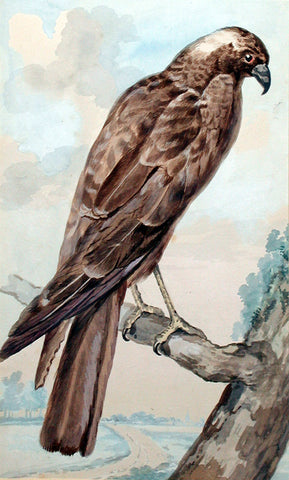 Abraham Meertens, (Dutch, 1747-1823) A Hawk or Harrier
Abraham Meertens (Dutch, 1747-1823)
A Hawk or Harrier
Watercolor and gouache over indications in black chalk
Bears inscription in black chalk, verso: Torenvalk, and stamp, verso: MADE IN HOLLAND
Provenance: With Bernard Houthakker, Amsterdam; Unicorno Collection (inventory number N 477)
Paper size: 17 x 10 1/4 in.
This delicate watercolor by Abraham Meertens was once in the collection of renowned Dutch collectors Saam and Lily Nijstad, whose exquisite taste curated the Unicorno Collection. This spectacular compendium of works on paper numbered five hundred pieces and only contained drawings considered the finest in quality and condition. Indeed, the importance and magnitude of the Unicorno Collection recognized by the Dutch national art historical documentation agency (the Rijksbureau voor Kunsthistorische Documentatie), the Rembrandt House Museum, and the Dordrechts Museum, which, in collaboration, have researched and documented every drawing in this remarkable collection. The acknowledged experts in Dutch drawings, Charles Dumas and Robert-Jan te Rijdt undertook cataloguing each unique watercolor and drawing. The compilation, which began in 1949, has now been dissolved, but such highly regarded art pieces should be currently available to become highlights of other new and growing collections.

The works of Aert Schouman figured strongly in the Unicorno Collection, as did that of his follower, Abraham Meertens. Meertens was quick to learn Schouman's color palette and compositional arrangement, as well as his technique of capturing natural history subjects in watercolor and washes. These particular examples originate from approximately one hundred bird and animal drawings formerly attributed to Aert Schouman, which the Schouman expert L. J. Bol, director of the Dordrechts Museum, was invited to the United States to examine in 1972. Unable to make the journey, he asked Saam Nijstad to go in his place. Nijstad concluded that the drawings were not by Schouman but by his follower Abraham Meertens. During the following year Saam Nijstad purchased the whole grouping. The watercolor of a hawk bears the stamp "MADE IN HOLLAND." At the time of its importation into the United States, it had been marked as such to avoid American customs duty on the reimportation of domestically produced objects.
Please feel free to contact us with questions by phone at 215.735.8811,
or by email at
loricohen@aradergalleries.com
---
We Also Recommend