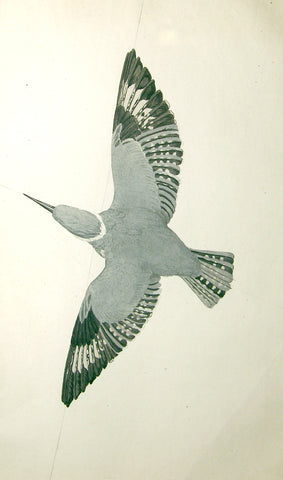 William Constable (British, 1783-1861), Untitled [Killdeer]
$ 125,000.00

$ 125,000.00
---
---
William Constable (British, 1783-1861)
Untitled [Killdeer]
Watercolor and pencil on paper
Inscribed along right edge: Mississippi River 20th July 1806'
Paper size: 15 1/2 x 9 3/4 in
Frame size: 21 1/2 x 15 1/2 in
William Constable was born in Horley, Surrey, the third son of a miller and poet. At the age of fourteen, he apprenticed to the engineering firm in Lewes, England. There Constable likely learned topographical drawing and learned to work in watercolor. Later, William and his elder brother, Daniel, apprenticed to Henry Browne, a wholesale and retail draper, and an artist and scientist. At the end of his apprenticeship William and his elder brother, Daniel, started a draper's shop in Brighton with financial backing from their father. The business was successful, and the brothers sold it in 1806 to fund a lengthy trip to America.

In 1806, William and Daniel trained in New York for a month before setting off on a two-year roaming up the Hudson River, along the Mohawk River to Niagara Falls, down the Ohio and Mississippi rivers to New Orleans. From here, they traveled overland to Washington, where they met Thomas Jefferson. During these two years, William painted many of the passing scenes that included North America's wild flora and fauna. Their trip coincided with an extraordinary time in American history. During their journey, the Constables carried secret messages for one of Aaron Burr's subordinates until they learned Burr's activities were treasonable (James C. Kelly, The South on Paper: Line, Color, and Light, 30.)

On their return to England, William Constable reworked his watercolors and drawings into a two-volume book of his travels in America from 1806-1808. Each page illustrates a scaled-down watercolor of his original paintings. This watercolor of a Killdeer is dated 1806, indicating Constable painted it in the field.
Please feel free to contact us with questions by phone at 215.735.8811,
or by email at loricohen@aradergalleries.com 
---
We Also Recommend