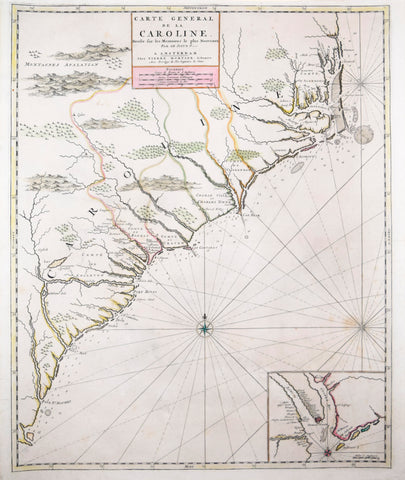 Pierre Mortier (1661-1711), Carolina
Pierre Mortier (1661-1711)
Carolina
"Carte Generale de la Caroline. Dresse sur les Memoires le plus Nouveaux Par le Sieur S..."
Published, P. Mortier, Amsterdam, ca. 1696
Engraving.
Full original hand-color.
Paper size 22 1/4" x 18 1/2"
An attractive and colorful map of the Carolinas alleged by Pierre Mortier to be derived from the work of Nicolas Sanson. The son of French parents, Mortier was born in France but lived and worked in Amersterdam (1661-1722). A bookseller and publisher from about 1685, he entered into the map-trade in 1690, and soon became known as a publisher of some of the finest maps of the period, including an atlas of maps said to be based on Sanson. It appears from this map and others, however, that Mortier was sometimes simply using Sanson's name "Sieur S..." in order to give his maps more authority. For instance, this map closely copied from a map drawn well after Sanson's death in 1667, the Thorton-Morden-Lea map of circa 1685. This is the first map of the Carolinas to be printed outside of England, and was included at part of Pierre Mortier's Suite de Neptune Francois.

Whatever its antecedents, this is a striking and most interesting map of the coastal region extending from Outer Banks to northern Florida. The map generally follows the coastal geography of the Gascoyne map of 1682 rather than Lederer geography that was more common. Settlements, rivers and extensive coastal soundings are indicated, and the map is brightly colored with pastel shades. An inset of the Charlestown area is included in the lower right corner. This inset is one of the few maps which identifies old and new Charleston as well as plantations up the Ashley River. An unusual and desirable map.
---
We Also Recommend