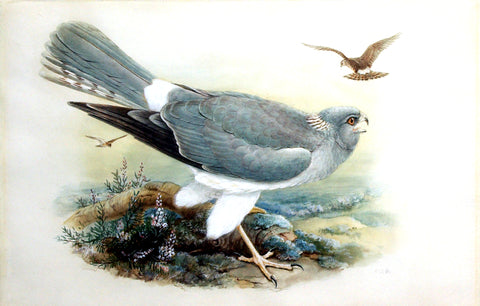 Henry Constantine Richter (British, 1821-1902), Hen Harrier
Henry Constantine Richter (British, 1821-1902)
"Hen Harrier"
Preparatory work for John Gould's The Birds of Great Britain
Watercolor heightened with white
Inscribed lower right: 1.26
ca. 1862
Paper size: 14 x 21 1/2 in
Frame size: 24 1/4 x 31 in.
Provenance: Bourne Fine Art, Edinburgh
HENRY CONSTANTINE RICHTER (BRITISH, 1821-1902)
Among the most familiar and best-loved of John Gould's plates are those illustrated by Henry Richter, a young artist. He collaborated with him on over one thousand plates during forty years. Gould was the most prolific publisher of ornithological material during the golden age of Victorian illustration. He shared the romantic enthusiasm of his time for such subjects and the popular impulse to catalog exotic wildlife.

After the death of Elizabeth, John Gould's wife and artistic collaborator, Richter started to work with the master ornithologist. As both an artist and lithographer, he was a valuable assistant to Gould. Richter helped to complete the Birds of Australia, using Elizabeth's drawings, and then went on to be a significant force behind the completion of the Monograph of the Humming-birds.

Born in London in 1821, Henry Richter came from an artistic family. His grandfather had emigrated from Germany and carved out a career for himself as an engraver, artist, and scagliolist. Richter's father was also a noted painter and engraver, and he likely provided his children with artistic training at home. Henry's sister was a miniaturist.

Richter produced the following watercolors for Gould's Birds of Great Britain. Gould was incredibly proud of this great work, and partly because its subject was British, it was seen as the culmination of his genius. He described the Birds of Great Britain as a return to his old love. While the work exhibited similarities to his Birds of Europe, the latter publication's illustrations incorporate more nests, eggs, and young than the earlier work. The ornithologist-and the artists with whom he collaborated-took more of an interest in creating accurate, appropriate settings and included more plants and fully-delineated environments. More than his earlier productions, Gould created lavish scenes of action and interaction.

Gould's rightful pride in these illustrations was reflected in his preface explanation of their coloring: "…every sky with its varied tints and every feather of each bird were colored by hand; and when it is considered that nearly two hundred and eighty thousand illustrations in the present work have been so treated, it will most likely cause some astonishment to those who give the subject a thought." Gould's pride in The Birds of Great Britain was matched by its public success. The list of 468 subscribers included the nobility and scientific luminaries of Europe and America. 

Please feel free to contact us with questions by phone at 215.735.8811,
or by email at loricohen@aradergalleries.com 
---
We Also Recommend