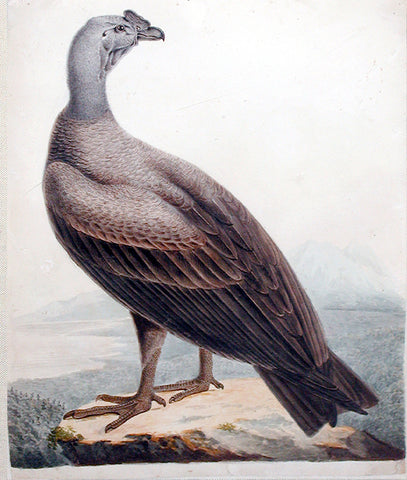 Alexander Rider (American, fl. 1810-1825), Study for Plate 22: "Condor"
$ 175,000.00

$ 175,000.00
---
---
Alexander Rider (American, fl. 1810-1825)
Study for Plate 22: "Condor"
from Charles Lucien Bonaparte's American Ornithology (Philadelphia, 1825-1833), Volume 4
Pencil and watercolor on paper
Ca. 1830-1833
Paper size 14 x 10 3/8 in
Frame size 24 1/4 x 20 1/2 in
Provenance: Dr. Evan Morton Evans (1870-1955); Daniel Webster Evans (1907-1966).
First published in parts between 1808 and 1814, Alexander Wilson's Ornithology was the first American bird book with colored plates printed in the United States. This original watercolor was produced for Charles Lucian Bonaparte's landmark American Ornithology, which was intended to supplement Alexander Wilson's essential publication on the subject of American birds. F Bonaparte, a nephew of Napoleon and a well-known scientist, expanded American Ornithology while a resident at his exiled uncle Joseph's estate in New Jersey during the late 1820s and early 1830s. For his illustrations, Bonaparte chose artists of considerable skill and renown, including not only the young Audubon but also Titian Ramsey Peale and Alexander Rider, a noted artist from Philadelphia whose wide-ranging talents included the painting of portraits, miniatures, and landscape paintings. Highly impressed by Rider's outstanding skills, Bonaparte commissioned the artist to produce the vast majority of drawings for his publication and add many bird species not treated in Wilson's work, thus considerably augmenting early nineteenth-century knowledge of American ornithology.

Like so many artists of his time, Alexander Rider had immigrated to the United States from Europe, specifically Germany, in 1810. He immediately built his reputation as an artist, won acclaim and commissions in his adopted city, and frequently exhibited at the Pennsylvania Academy. The engaging works he produced for Bonaparte's American Ornithology are the highlights of his distinguished career. This charming watercolor is a scarce instance of his original work, which rarely becomes available. It served as a model for the hand-colored engraving included in Bonaparte's publication. Indeed, the hand-written notes that identify and describe the bird have been identified as Bonaparte himself's work, making this work an important instance of the collaboration between author and artist. The original engravings from Bonaparte's American Ornithology are themselves quite rare, but only in Rider's original watercolors does his full artistic mastery and sensitivity become clear, as the birds seem to come alive, with each feather meticulously delineated and finely colored. This vibrant watercolor represents a rare opportunity to acquire original works for one of the most distinguished American ornithological publications by a celebrated artist.
Please feel free to contact us with questions by phone at 215.735.8811,
or by email at 
loricohen@aradergalleries.com
---
We Also Recommend