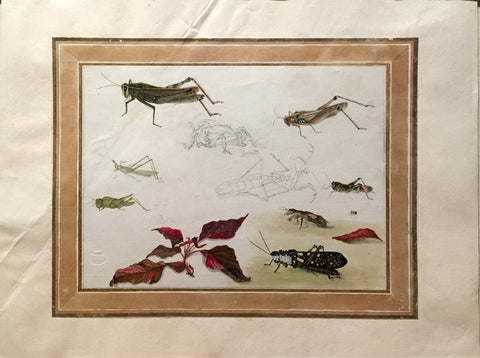 Company School (Nineteenth-Century), [Plant and Insect Study]
Company School (Nineteenth-Century)
[Plant and Insect Study]
From
A Collection of Drawings of Indian Natural History
Pencil, wash and watercolor on paper. Mount with washed borders
ca.1820
Paper size: 8 1/2 x 11
Frame size: 15 1/2 x 19 in.
Provenance: Collection of Benjamin Wolff

COMPANY SCHOOL (NINETEENTH-CENTURY)
The Benjamin Wolff Collection is an important contribution to the history of Indian painting. Among the academic highlights of the collection are the numerous drawings and watercolors produced out of the patron's wish to capture the encounter with exotic people, unusual flora and fauna, picturesque views, and ancient monuments. As with earlier patrons, Indian artists would sometimes be commissioned to produce specific works; more frequently, however, the latter, led by the expanding market for their work, initiated the content themselves and would create standard sets of paintings which they felt confident would appeal to new patrons. As a result, artist families in places such as Murshidabad, Patna, Calcutta, Benares, and Lucknow, all produced paintings of subjects of local interest in distinctive regional styles, offering them around British stations or selling them to travelers at well-known halting places along rivers.
The aesthetic highlights of the Wolff Collection are those belonging to the tradition of Company painting, famously patronized by such notable collectors as Marquis Wellesley, Major-General Thomas Hardwicke, W.L. Gibbons, and of course the Impeys. Mary, Lady Impey (1749-1818) seems to have taken the lead in commissioning meticulous, often life-sized pictures of their birds and animals from three artists from Patna, 200 miles away along the Ganges River: Shaikh Zain ud-Din, Bhawani Das, and Ram Das. All three artists were trained in the old Mughal techniques of miniature painting, but by working for the Impeys, using English watercolors on English paper, and taking English natural history works as their models, an extraordinary fusion of English and Indian artistic impulses took place, a fusion that resulted in an entirely new type of painting known today as the Company School. By the time the Impeys left India in 1783, these artists had produced over two hundred works on large sheets of imported English paper, mainly of birds though also of animals, fish, and reptiles. In their assimilation of European conventions, they are also outstanding forerunners of the Company style, practiced by Indian artists for British and other European patrons well into the 19th century.
In his memoirs, Benjamin Wolff (1790-1866) described himself as an "amateur and collector," and judging from the numerous signed drawings from India, one might even add "an avid amateur with an observant eye," and this in the real 19th-century sense of the word. Wolff was indeed an able draftsman, and his artistic ambitions were understandable. Strong advice from his father led to a law degree from The University of Copenhagen, and encouraged by his two brothers; he took off to India in pursuit of career and fortune. He succeeded in both, and after his sojourn in Calcutta he returned to Denmark, purchased Engelholm Manor, south of Copenhagen, in 1830, managed it well, and maintained several positions in private as well as public administration.
Prior to his departure for India, Wolff shared a mutual interest in art with his close friend and brother-in-law, J.C. Fick (1788-1864), a collector and auctioneer who was instrumental in the founding of Kunstforeningen (The Art Society) in 1825. Despite the geographical distance, the two maintained close contact during Wolff's stay in Calcutta. Fick would not only forward updates and letters, including the Charlottenborg Spring Exhibition catalogue with personal comments—from C.W. Eckersberg he commissioned a portrait of Madam Wolff and had it sent to Calcutta. In return, Wolff would send Indian drawings back to Copenhagen—some Fick kept, others were passed on to his friend, the collector J.C. Spengler (1767-1839), and the rest were temporarily stored by Wolff's mother.
Apart from the Wolff-Sneedorff Bequest in 1915, in which several drawings were presented to The Danish Music Museum, The Royal Library, and The Royal Collection of Graphic Art (KKS), the present works come from what seems to be the corpus of drawings and prints related to India. For almost two centuries, these were arranged by subject and stored in 19th-century portfolios at Engelholm Manor. A large number are on simple paper mounts, many with simple, black-ruled borders, and some with decorative washed borders. All works in the collection are embossed with a collector's stamp; A five-pointed crown with initials "BW," which was probably applied upon Wolff's return to Denmark.
---
We Also Recommend