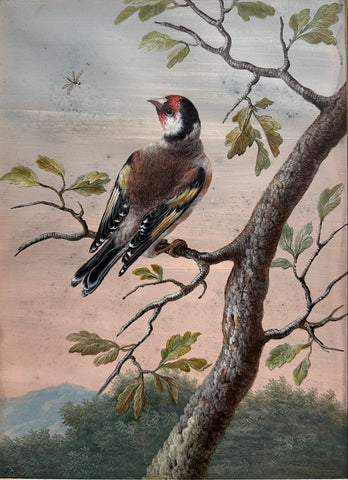 Christoph Ludwig Agricola (German 1667-1719), Goldfinch
Christoph Ludwig Agricola (German 1667-1719)
Goldfinch
Watercolor and gouache on vellum
Vellum sight size:11 x 8 in.
Framed size:19 1/4 x 16 in.

Relatively little is known of the artistic training and career of the late 17th-century German painter Christoph Ludwig Agricola, who developed a form of atmospheric landscape painting described as embodying 'an early expression of Baroque Romanticism in German painting.' He seems to have been largely self-taught, and the landscape paintings of the French artists Claude Lorraine, Gaspard Dughet, and Nicolas Poussin strongly influenced his work.

As a draughtsman, Agricola also produced many gouaches of natural history subjects, notably a series of fine studies of birds, executed on vellum. Among his pupils was the landscape painter Johann Alexander Thiele.

Paintings by Agricola are today in several German museums, notably in Braunschweig, Kassel, and Schwerin, as well as in the Palazzo Pitti in Florence and museums in Naples, Turin, and Bologna; the result of his years of working in Italy.
Please feel free to contact us with questions by phone at 215.735.8811,
or by email at loricohen@aradergalleries.com 
---
We Also Recommend