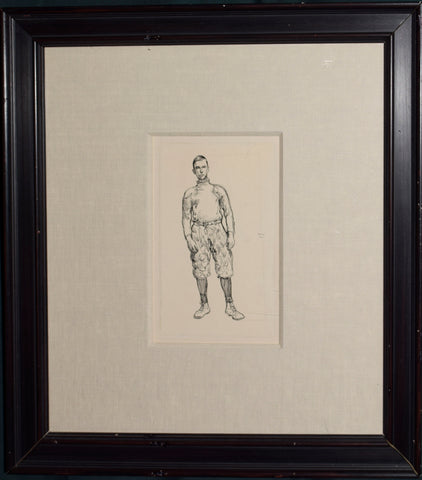 Charles Huard (1874-1965) [Rugby/Football Player]
Charles Huard (1874-1965)
[Rugby/Football Player]
ca. 1905
Original drawings for New York as I Saw It
Pen and ink on paper with pencil notations
Paper  size: 7 1/2 x 4 5/8""
Framed size: 18 1/2 x 17"
Born in Paris in 1874, Charles Huard began his career illustrating
popular journals of the time including Le Rire, Cocorico, Le Courrier Français, and L'Assiette au Beurre. His sketches of French personalities captured the joie de vive of Parisian life in the nineteenth century and quickly earned him acclaim. Huard studied at the Atelier Julian around 1900 and went on to illustrate the complete works of Honoré de Balzac in 1910. He also served the French Army in WWI from 1914-1918 in the capacity of Official Painter of the Sixth Army of France.
Huard possessed a passion for travel and published illustrated books of his voyages. He took particular care to faithfully report what he saw as objectively as possible without adding his personal judgments or bias. His journals are fascinating historical records of rapidly developing cities captured both in pen and ink sketches and also in Huard's narrative voice: the voice of a ready explorer encountering the city for the first time.
---
We Also Recommend