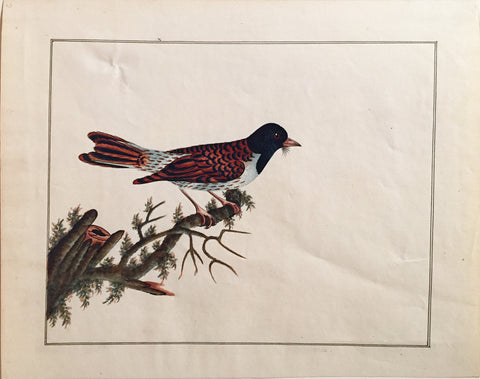 Charles Hayes (British, 1772-1826), Reed Sparrow
Charles Hayes (British, 1772-1826)
Reed Sparrow
Watercolor and ink on paper
ca. 1808
Paper size: 8 5/8 x 10 7/8


WILLIAM HAYES (BRITISH, 1729-1799) AND
CHARLES HAYES (BRITISH, 1772-1826)
Original watercolor drawings by father and son ornithological painters William and Charles Hayes.

William Hayes is best known for his delicate drawings of the most unusual specimens, prepared for Robert and Sarah Child. Hayes depicted birds at life-size whenever possible, as John James Audubon (1785-1851) would later do. A self-taught artist, Hayes worked from live specimens he kept in captivity and birds from the collection of one of his patrons, the Duchess of Portland.

Having fallen on hard times, Hayes employed some of his 21 children to help him in the engraving and coloring of his first edition of Rare and Curious Birds, 1794-99. This publication was the first published systematic record of a single private collection of live birds. Robert and Sarah Child, the owners of Osterley, commissioned William Hayes to write and illustrate this work. A second edition, credited to "the late William Hayes, of Southall," was posthumously "published for the benefit of his family."

Charles Hayes, son of the noted ornithological artist, probably intended these watercolors to be a small edition. Only four other albums of his work are known: 50 watercolors held by McGill University, 120 by London Zoological Society, 24 sold at Christie's London (16 November 2004), and a collection of 144 drawings also sold in London (25 October 2005), from the Fattorini collection.
Please feel free to contact us with questions by phone at 215.735.8811,
or by email at
loricohen@aradergalleries.com
---
We Also Recommend