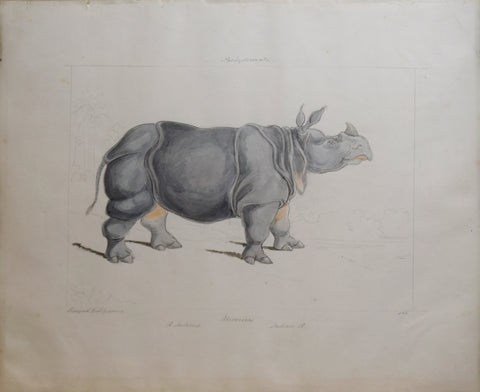 Charles Hamilton Smith (1776-1859), Rhinoceros of India
Charles Hamilton Smith (1776-1859)
Rhinoceros of India
Original Drawings by Lt. Col. Hamilton Smith. Zoology - Elephants, Rhinoceroses &c.
Watercolor, pencil and ink on paper with black framing lines
Initialed l.r.: CHS. 
Paper size: 12 7/8 x 16" 
Frame size: 19 x 22" 
In eighteenth and nineteenth century England, the concept of travel emerged as a means of enrichment, discovery and adventure.  Advancements in steam power and the printing arts, provided artists and explorers the opportunity to witness and document the wonders and glories of foreign lands.  Voyages to Africa, Asia, the Middle East, the Far East and the Americas, brought to light the astonishing diversity of the natural world.  Specimens collected on these journeys provided crucial scientific data and were often the basis for exquisite works of art. 
Smith was born at Vrommen-hofen in East Flanders.  Having pursued his military studies at the Austrian academy for artillery and engineers at Malines and in Louvain, he volunteered for the British forces, and served in the 8th Light Dragoons.  He later went to the West Indies with the British 60th regiment in 1797, and we know that he was engaged in military engineering duties in Curacao in 1808.   Smith's ability to sketch and draw in the field came to the fore during the last phase of the Napoleonic Wars.  According to Lord Lynedoch, Smith sketched the frontier near Brussels, and the Duke of Wellington used these drawings and reports when he first visited Waterloo.  Though settling in Plymouth, Smith continued to travel extensively, visiting no less than thirty-four menageries in his study of natural history.  Among these he listed; the Leverian and British Museums, Bullock's, the Missionaries', the India Company's, the Jardin du Roi at Paris, the museums of Munich, Dresden and Berlin, those of Bonn and also of Philadelphia, New York and Baltimore."
This remarkable and exotic collection of watercolors is comprised of elephants, rhinos, tapirs, horses, peccaries, hyrax and hippos all placed within landscapes to replicate their natural habitats.  The work was perhaps intended for eventual publication as that the illustrations are more than just anatomical studies.  They elegantly marry the art of watercolor painting with that of science to create enduring works with visual appeal.  
The majority of watercolors, pencil drawings and notes were given to the Plymouth Institution (now Athenaeum) after his death and the American Museum of Natural History holds a substantial collection of his work. 
---
We Also Recommend