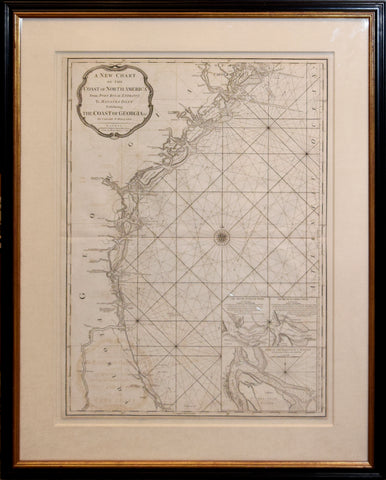 Captain N. Holland (Surveyor), A New Chart of the Coast of North America from Port Royal Entrance to Matanza inlet Exhibiting the Coast of Georgia
Robert Sayer (1725-1794)
A New Chart of the Coast of North America From Port Royal Entrance To Matanza Inlet Exhibiting The Coast of Georgia &c. By Captain N. Holland . . .1792
London, 1792
Engraving
Paper size 28 3/8 x 20 7/8"
Frame size 37 3/4 x 30 1/2"
Extremely rare separately issued chart of the coast of Georgia. The map is includes a highly detailed treatment of the region south of Port Royal to Matanza Inlet in Florida, with a marvelous treatment of the Georgia Coastline and Hilton Head. Includes three insets plans of the Mouth of the Nassau River, Mouth of the St. Mary's River, and St. Augustine Harbor. Sayer references N. Holland as the maker of the map. In fact, there was no N. Holland, and this is likely a pseudonym for Samuel Holland. Holland and Gerard William DeBrahm were the two primary colonial surveyors for the British Colonies prior to the American Revolution. It is known that a number of the early colonial surveyors sold information to private publishers after the Revolution, using the information they gathered to make up for some of the lost compensation associated with their displacement. While Holland may well have been the source, his assignment was the Northern British Colonies, making it more likely that the source of information for the map would have been DeBrahm, Bernard Romans, and the contemporary charts of Des Barres, Normal and Clark. A finely engraved and highly detailed map. A fine example of this rare map. Only two examples have appeared in the past 25 years.
---
We Also Recommend