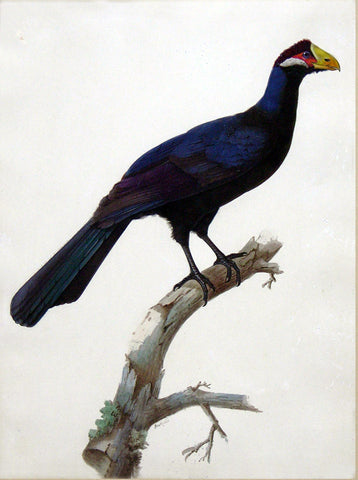 Auguste Pelletier (French, Fl.1800-1847), White-tailed Trogon
$ 180,000.00

$ 180,000.00
---
---
Auguste Pelletier (French, Fl.1800-1847)
Violet Touraco, Male or (Musophaga violacea)
Watercolor and gouache, fusain
Signed by the artist: Auguste [Pelletier]
ca. 1822
Paper size: 20 3/4 x 15 in
Frame size: 31 x 24 1/4 in
Provenance: Collection of Marcel Jeanson

This watercolor was originally produced as an illustration for Francois Levaillant's (1753-1824) Histoire Naturelle des Promerops des Guepiers et des Couroucous, volume III, troisieme partie as plate 18, "Le Touraco Violet Male." Levaillant, a famed French naturalist, is the acknowledged founder of African ornithological research.

The nineteenth-century was a golden age of bird painting due to countless scientific expeditions that were conducted at some supremely exotic locales. Consequently, Europeans were brought in contact for the first time with a dizzyingly high number of (as yet) undocumented species of plants and animals. Scientists routinely employed gifted artists like Pelletier to disseminate images of the newly discovered flora and fauna.

The following watercolors by Auguste Pelletier serve as excellent examples of the artist's ability to fuse science and aesthetics principles. The French natural history painter beautifully and accurately renders the birds' feathers, body, and colors. Using deeply saturated colors, Pelettier successfully evokes the richness of its distinctive deep purple plumage.
Please feel free to contact us with questions by phone at 215.735.8811,
or by email at loricohen@aradergalleries.com 
---
We Also Recommend